The first Cinema Eye event was held at the IFC Center on Tuesday night and it was a wonderful evening to be part of. The ceremony had just the right touch of rock and roll spirit (because lets face it award ceremonies can be deathly boring, especially when you have to eat food that tastes like it should only be served above 10,000 feet). Everyone seemed really grateful that the craft of documentary filmmaking was finally being recognized, and the need for Cinema Eye is clear when you consider that the American Society of Cinematographers do not even have an award for nonfiction. Looking around the room and seeing so many of my friends and colleagues who are so passionate about documentary did bring the expression "preaching to the choir" to mind but it just means that we need to make that choir bigger so that the producers, directors, cinematographers, editors, graphic designers and everybody else who plays such a vital role in bringing a film into the world get more recognition and so that great films like Manda Bala, The Monastery, Billy The Kid and The King of Kong are seen by more people in more cinemas and beyond.
My camera is on its last legs so this is the only picture I managed to get. The out of focus person in the middle is Jason Kohn picking up his award for Outstanding Achievement in Nonfiction Feature Filmmaking for Manda Bala.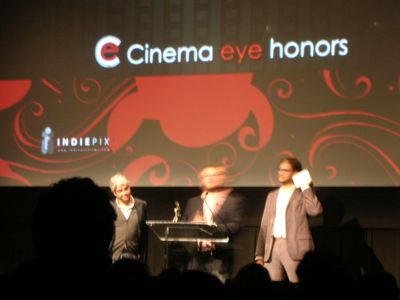 These are the award recepients:
Outstanding Achievement in Nonfiction Feature Filmmaking
MANDA BALA (SEND A BULLET)
Directed by Jason Kohn
Produced by Joey Frank, Jared Goldman and Jason Kohn
Outstanding Achievement in Direction
Alex Gibney
TAXI TO THE DARK SIDE
Outstanding Achievement in Production
Seth Kanegis, Tomas Radoor & Mikael Rieks
GHOSTS OF CITE SOLEIL
Outstanding Achievement in Cinematography
Heloisa Passos
MANDA BALA (SEND A BULLET)
Outstanding Achievement in Editing
Doug Abel, Jenny Golden & Andy Grieve
MANDA BALA (SEND A BULLET)
Outstanding Achievement in Graphic Design and Animation
The Team from Curious Pictures
CHICAGO 10
Outstanding International Feature
THE MONASTERY – MR. VIG & THE NUN
Directed by Pernille Rose Gronkjær
Produced by Sigrid Dyekjær
Outstanding Debut Feature
Jennifer Venditti
BILLY THE KID
Audience Choice Prize
THE KING OF KONG: A FISTFUL OF QUARTERS
Directed by Seth Gordon
Read more on indieWIRE.