Jason Kohn gave a great speech when he won the Outstanding Achievement in Nonfiction Filmmaking at the Cinema Eye Honors last week. He spoke about making Manda Bala "out of anger" after watching Marshall Curry's Streetfight play to an empty theater at a festival in Sao Paulo. "I was so god damn mad. . . because when these movies don't get seen you feel like you're fucking losing, you feel like somebody else is winning and that person is no good."
Earlier in the evening Kohn had spoken about how he felt that Werner Herzog and Errol Morris had been making films in response to each other, in a kind of unintentional dialog. There's an interesting conversation between Herzog and Morris in the latest copy of The Believer. They talk a little bit about Herzog's ideas about "ecstatic truth," a lot about serial killers, and Morris finishes with some great thoughts on the tension between planning and spontaneity in documentary:
I feel that element of spontaneity because so much of what I do is controlled. The element of spontaneity is not knowing what someone is going to say to me in front of the camera, having really no idea, of being surprised. I know that there's this moment in all of the interviews I've loved where something happens. I had this three-minute rule that if you just shut up and let someone talk, within three minutes they will show you how crazy they really are. And it has happened time and time and time again.
If everything was planned, it would be dreadful. If everything was unplanned, it would be equally dreadful. Cinema exists because there are elements of both in everything. There are elements of both in documentary. There are elements of both in feature filmmaking. It's what makes, I think, photography and filmmaking of interest. Despite all of our efforts to control something, the world is much, much more powerful than us, and more deranged even than us.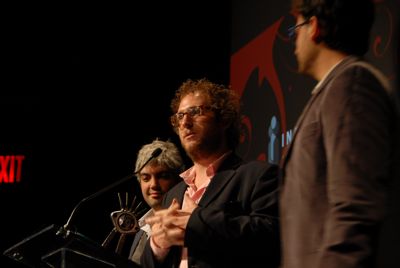 Jason Kohn accepting his award. Photo courtesy of IndiePix.