It has been so frustrating not having time to blog about all the films and other events I attended at HotDocs and then Tribeca. Work has foiled me every time. It has just been a nutty couple of weeks – full of good things but no time to sit and think and write. Yesterday I got home and was so tired that I watched the end of Music and Lyrics and then the end of Just My Luck before crashing out at 9.30pm. Not one of my better TV-watching moments!
I attended a really interesting panel last week at Tribeca called Reuse Remix Renew – covering copyright and digital culture in advance of the release of the Tribeca Institute's Sample This! licensing toolkit for filmmakers which should be available later this Summer. The panel included DJ Spooky – aka Paul D. Miller, That Subliminal Kid, who has recently released a book he has edited called Sound Unbound: Sampling Digital Music and Culture
. He said that his 1996 album Songs of a Dead Dreamer would probably not be released today because litigation against sampling has become so much more robust. Spooky thinks of this work as an "invisible sculpture made of fragments of history" and the battles over copyright come down to "who owns memory?" for him. He talked about how the old model of copyright is based on scarcity but now culture is "ubiquitous, downloadable, everywhere, all the time" and smart folk, like Google, are tapping into this new model and making millions. He went on to talk about the bootleg economy that is dominant in many countries in the world and to note that the way that the law is currently written and the way that we actually live are parting ways. We are moving toward a gift economy and people are having to work out how to monetize this in new ways. Digital literacy will be a big deal as we move forward in this new world.
Eric Steuer, creative director of Creative Commons, is one of the people working to increase digital literacy and explore new ways of allowing legal reuse, remixing and sharing of creative work. "People are going to engage with things they love," he said "so you have to create business models that accept this and work around it. People are not going to stop downloading but they respect the flexibility of Creative Commons."
Jennifer Urban and Himanshu Singh from the USC Intellectual and Technology Law Clinic are working with the Tribeca Film Insitute to develop the Sample This! toolkit. Clinics like theirs help filmmakers with issues over fair use and the toolkit came out of this work.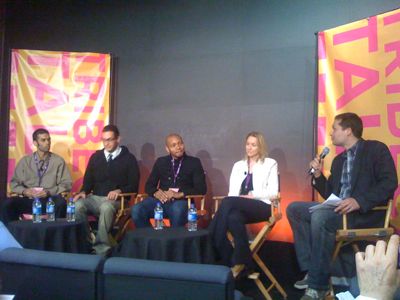 Himanshu Singh, Eric Steur, Paul D. Miller, Jennifer Urban and moderator Georg Szalai from The Hollywood Reporter.
While I was thinking about fair use, sampling and copyright I re-discovered this awesome performance by Jamie Lidell so I'm embedding it here for some extra sample-tastic pleasure.