Well, yes of course it does. But this is a sticky, tricky issue that the independent film community is going to have to grapple with as new sources of funding become available and new partnerships are sought. I just finished writing an article for MovieScope Magazine in the UK about the possibilities for outreach around documentaries, focusing on the productive partnerships that Third Sector funding (NGOs, charities, social enterprises, voluntary organizations etc.) can help foster. However a couple of recent Guardian articles (click here and here) have highlighted the ethical issues involved when financial support is given by organizations with a particular agenda. Who has editorial control if a film is funded by Amnesty or Oxfam? The Guardian quotes Chloe Baird-Murray, Amnesty's director of creative relationships: "If the film-maker wants to tell both sides of the story, they can do that. We support … freedom of expression. Any storytelling is positive for us if it shines a light on what is happening in the world. We get involved to tell our side of the story correctly. Documentaries can be overwhelming if they do not contain a solution to the problems they highlight. NGOs can give that. Al Gore's film ended with an example of what people can do. People are ripe for that kind of activism."
The Good Pitch at BRITDOC opened many people's eyes to the possibilities of Third Sector and commercial funding (see also the work that the Channel 4 Documentary Film Foundation did in bringing the non-profit world together with filmmakers last year at The Media Conference). Just take a look at the list of observers – many will not be folk you would consider "the usual suspects" when it comes to documentary funding:
Fledgling Fund
IMPACT PARTNERS
ITVS
C4BDFF
Sundance Institute
AOL True Stories
Participant
CBA-Dfid
Christian Aid
Oxfam
Avaaz
Amnesty
NCVO
RED
Gucci Fund
The Sunday Telegraph
Hartley Film Foundation
One World Broadcasting Trust
Vice Magazine
JRRT
Gulbenkian Foundation
Channel 4 (Corporate Affairs)
No2ID
Oak Foundation
Ecostorm
Greenpeace UK
British Beekeepers Association
Camfed
MySpace
World Development Movement
There is definitely a need for funding outside of television/government in the UK but filmmakers will have to be alert as they navigate this new landscape. There is a longer tradition of this kind of funding in the US (much of it necessitated by the profound lack of government/public service funding here) but the recent Nike/Beautiful Losers deal on this side of the pond has led to much debate about the ethics and politics of big corporations giving support to independent films. As Spout's Karina Longworth put it: "Beyond the knee-jerk "corporate=bad" response, what should we think about indie documentaries looking to multinational giants for the kind of support that studios are no longer willing to give?"
Transparency is clearly key in all these instances. I'm inclined to agree with the Frontline Club's Vaughan Smith who says: "I can't think of subjective journalism that I have a problem with, if it is marked as subjective and clear. Most journalism is already subjective, even if it is labelled as objective. I am suspicious of all organisations, including news organisations. There always needs to be proper controls to protect editorial integrity."
Thank you to Mark Rabinowitz/Docsider for the heads up about the Guardian articles.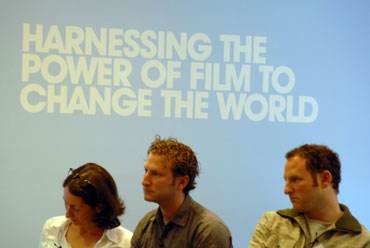 The team behind Black Gold at The Media Conference in 2007