At last! Your chance to watch and vote for my work! (I know you've been wanting to do this for ages…)
Keen readers will know that at the start of October, Chris and I lead a fearless guerrilla unit into the hills of Jersey and made a short film called "Truth In The Valley" as part of the Vauxhall Branchage 48hr Filmmaking Challenge.
Keener readers and those with their fingers on the pulse will already be aware that all five completed films are now online at MiShorts.com. We made them not as competitors or rivals but as allies and friends, however the online world is harsh and now we're in bitter competition for a cash prize.
"Truth In The Valley" is available to vote for here: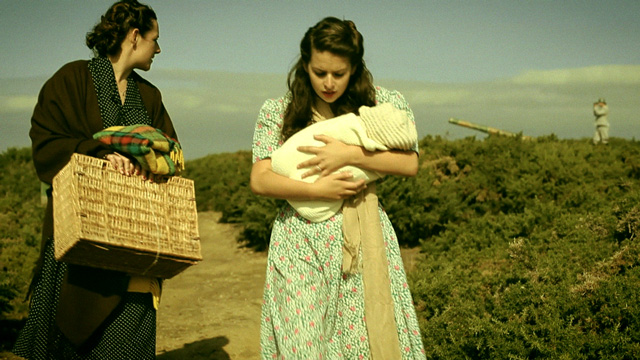 Whilst I do want to win, I also have to admit to a strange sense of pride for all five films. Each one is 6 minutes long and all were made over the course of 48hrs with titles and genres drawn at random at the start of the competition. Most were also made by filmmakers who'd never been to Jersey before, many using actors they'd only just met.
They range from Alex Jacob's beguiling "Dashes Of Yellow" (I think the cruellest title draw), Gaelle Denis' richly atmospheric "Morning Mist", Rob Morgan's astonishing "Overtaken", Emma Rozanski and Michael Pearce's hilarious "Occupied" and our own largely historically accurate "Truth In The Valley". All five have something unique and brilliant to offer. Which is why this blog is going to focus on one film a day for the next week, giving you a little background on it's creators, how they got involved and how they worked.
I have already told a great deal of the behind the scenes story of "Truth In The Valley" on this blog… here, here, here, here, here, here, here, and most of all here and here. However I don't think I've properly expressed my gratitude towards our amazing cast and crew.
We had some much valued support from a couple of locals including Reuben our Nazi trooper but our core team was fellow filmmaker Laura Brocken, old time teammate Alex Mayover and actresses Rebecca Eve and Jessica Fostekew. Alex used to work with Chris but I first met him on the first day of the first ever 48hr Filmmaking Challenge held by Jonny Oddball back in 2002. We've been friends ever since and he has worked on all four of the 48hr films that we've made, though never before with a beard.
Chris mentored Laura as part of the Branchage Bootcamp the year previously and we both fell in love the short film "Tell" which she made with him. "Tell" picked up the prestigious Islander award at the festival this year, one of many it's won. So she is a real talent in her own right, however on "Truth In The Valley" she was part of our team and was astonishingly willing to take up the vital but unglamorous jobs.
We met Rebecca earlier in the year when she auditioned for us and later did a series of promotional stills for a film we're working on. All of which merely whetted our appetite for working with her, so when she admitted she actually came from Jersey we did all we could to encourage her to come home whilst the festival was on. I love the unexpected strength she brings to the role she plays. The vulnerability you expect, but it's the flashes of steel that really give the performance it's strength.
Jess is an old friend of ours who we've been longing to work with properly for years. Her performance is the anchor of the whole film and once we'd fixed the idea in our heads we knew that the whole thing would live or die by the long silent take of her walking across the sand. Jess, like us, is best known for making people laugh. She's most regularly employed as a stand-up where she is filthy, smart and hysterically funny. Her joke about the names of colours is still one of my favourite things in the entire world. We always knew that there was much more to Jess than silliness, as we hope is true of ourselves. However all three of us were aware that we were entering unfamiliar territory with no time to change our minds… The glowing praise that people have given her for her performance in this film is something I am totally delighted by. She's very brilliant and I'm very proud of her. This a picture of her with a Nazi: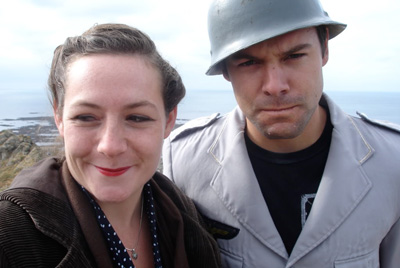 So there we go, that's my directorial love-in for the people who made this brilliant brilliant film with me and Chris. You will now either be desperate to see and celebrate its shining wonder or you will want to revel in the schadenfreude of hating it and marking low. Whatever floats your bloat give me six minutes of your life by clicking on the link below and tomorrow I will tell you everything I know about Alex Jacob's "Dashes Of Yellow"…
"Truth In The Valley" is available to vote for here:
http://www.mishorts.com/index.php?page=shop.product_details&category_id=14&flypage=flypage-comp.tpl&product_id=911&option=com_virtuemart&Itemid=13