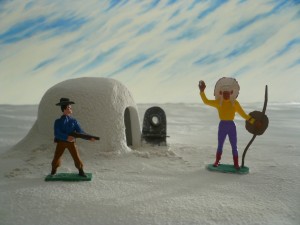 To celebrate the forthcoming release of the critically acclaimed, stop-motion feature A TOWN CALLED PANIC (described by EMPIRE as "Toy Story on absinthe"), we are offering you the chance to have your own stop-motion comedy short screened prior to the feature at the Curzon Soho in London. The winner and 3 runners-up will also receive a heap of PANIC goodies and Optimum Releasing DVDs.

Your stop-motion comedy can be a self-contained short or an extract from a longer film, no longer than 5 minutes. It can be shot brand new for this competition or it can be clipped or remixed from a film you made previously. The winning film will be chosen by Hammer & Tongs, the director-producer duo behind Son of Rambow, The Hitchhiker's Guide to the Galaxy and countless memorable music vids.

Officially selected for Cannes this year, A TOWN CALLED PANIC is a unique animated gem that follows the surreal adventures of a lovable hyperactive plastic trio – Cowboy, Indian and Horse, as they travel to the centre of the Day-Glo earth, trek across frozen tundra and discover a parallel underwater universe.

How to enter;

– Go to your profile and click MY WORK & CREDITS
– Upload your animation
– Once uploaded to your profile, click ENTER/APPLY and select 'A Town Called Panic
Competition'

Deadline for entries is 29 September and the winner will be notified shortly after.

A TOWN CALLED PANIC will be in cinemas from 8 October.