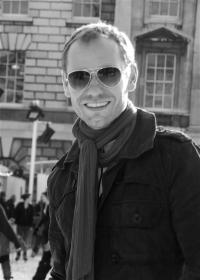 With MOFILM's competition at the Rome Film Festival just around the corner we recently caught up with Shooting People member James Hillier who won first place for his Nokia advert at MOFILM's 2010 Tribeca Film Competition. Here's what he had to say about the experience.

What was it like working within the confines of a design brief? Dave Hewitt (my working partner) and myself have been involved with and made a number of films in the past but this was the first time we'd worked within a brief. It appealed to have parameters for a change and they fired our imagination as we sought to tackle them in a dynamic and original way. The results were surprising and unexpected. Another real plus was having a deadline. Having been involved with projects with 2 or more years turn around it was satisfying to have two weeks from conception to finish.

How did you go about working out the logistics of the shoot, such as budgeting, filming, etc? We decided from the start that if we were to make these films we would not spend over 200 quid and that meant we needed to get creative. Preparation was vital. When we came to shoot we were only in the location for 5 or 6 hours. Luckily I know a few actors and Dave has lots of tech buddies so everyone came together to make the thing for no cost. We had a great, fun day and the actors gave us more than we could have hoped for and the crew executed the piece brilliantly. In fact the highest costs for the film were for the budgie Spike. He needed to be trained to play dead which involved him going along to a bird trainer for a number of sessions beforehand which are quite costly!

What was it like working with MOFILM? MOFILM were great. Enthusiastic and supportive. There's been some difficulty chasing down Nokia for the actual prizes but MOFILM have stayed in touch and promised they'll arrive any time soon! In fact, we've just downloaded two more films for the London Film Festival competition and are working up a couple of ideas for Rome.

What was your experience of attending the Tribeca Film Festival? Tribecca itself was a real treat. Attending a film festival in New York just feels right. You step outside afterwards and you're surrounded by this iconic city that has a story going on at every street corner and then you stop off at an Ukrainian cafe and eat dumplings.

Is advertising a field you could see yourself pursuing in the future? Dave and I are keen to get involved. We want to make films. There are many ways of doing this and one of those is in advertising. There is no master plan, just hopefully more filmmaking. And more Ukrainian dumplings of course.

Congratulations again to James and Dave and good luck with both the London and Rome Festivals.

The entries for MOFILM's Rome Film Festival competition are now open. Go on, enter! Maybe you could be the next James Hillier….