I know I said in my last blog I was going to explain what ideas lay behind the creation of Oodle, but I'm going to divert this week to discusss something that is exercising me more and more each day, the market!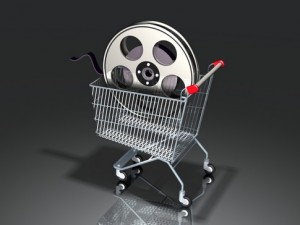 Since I was a lad of about fourteen, I have known that what I wanted to do with my life was make films, films that are shown in a large dark room filled (hopefully) with people eager to see said film.  This desire came with a belief that I also had the goods to achieve said dream.  But it isn't so easy.  I used to think that the best way to succeed was make the best work you can, that is your stall; people will come along, gaze upon it, appreciate the skill on display and choose to partake in some way.  Like I said, it isn't so easy.  One of the best things I ever made, a children's comedy series that I put my heart and soul into, won a Best Drama Bafta in 2006.  I haven't even had so much as an interview for any TV directing gig since and am unrepresented as my agent finally threw in the towel.  So much for quality being your calling card.

I love the process, but I am rather less impressed with the business.  I attend scriptwriter's conferences where senior representatives of TV broadcasters proclaim they are desperate to find the next Dennis Potter, while refusing to contemplate a commission for anything beyond the most mundane and risk free programme.  I don't believe them anymore, in fact as a culture that celebrates soap above most other drama forms has held sway in TV for some fifteen years now and these senior executives have come up in that time, would they even recognise the next Dennis Potter?  Or might they think, this writer's barking mad?

To be fair though, drama is extremely subjective.  One person's masterpiece is another's fish wrapper, but to allow the great works to come into being, there needs to be a market with sufficient breadth for all to develop, where producers can take chances on work and succeed or fail and earn a living in the process and though there might be pockets of that in television, in film in this country that doesn't exist.   Every few months in one paper or another, someone is agonising about the UK film industry, that it's a cottage industry, that producers can't find investors because investors never make their money back, so can't get their projects made, so can't earn a living, so are giving up, yadda yadda yadda.

You think it's complicated?  The solution is not complicated, the solution is allowing the producers to sell their product to their own market and earn money from it.  Everything else flows from that and in the UK the Americans own our market and they will not let us in.  It's our market.  Let me say that again.  It's our market!  If it was supermarkets and like Asda is owned by Walmart, they were all owned by Americans and they refused to sell anything but American food and UK food producers were all going to the wall and local food types disappearing, would we still sit idly by?  Ok film is not a staple of life, the analogy is not perfect, but it does illustrate the placid acceptance of another dominant culture over our own and I have to wonder why?  Why is a product that we have enormous skill at making, with such immense global value so completely neglected. I should probably state here that I have nothing against American film, I love an awful lot of them and admire their incredible breadth, but I want to make films in my country and it is nigh on impossible because the control of the distribution system by foreign owners denies me the economics that makes it possible.  I really would like to see that change.

It may be a dirty word to some, Thatcherite economists mostly I suspect, but quotas seem to me to be the only real solution, yes, it's an artificial intervention, but the playing field is not level, we are not allowed to compete on anything like fair terms and a quota would go some way towards levelling the field.  We had an industry when we had quotas and it's disappeared since they were abolished.  France has always had quotas, 15% of films in cinemas must be of French origin and they have a flourishing industry.  Not all of their films are brilliant by any means and you wouldn't expect them to be, but they regularly release over 100 indigenous films; we are having a great year if we manage 10 and I'm not including films like Harry Potter, films made here with American money are not British films.  Though I appreciate there is a desire to exert some ownership over the skills involved in making those films, that is a double edged sword, it can lead us into the notion that we have a film business and in the respect of delivering the resources to make those films we do (and in some respects thank God as it maintains our skills base), but the money those films make goes back to America, they are still just American films made over here.  In Germany the quota is also 15%, in Spain it's 30%.  German film is a resurgent success story with money to spend; Spain's industry has exploded into life almost over night.  Market economics dictate that whatever the market chooses must be the best for all, but surely that is a very blunt instrument?  It is simply survival of the fittest, but in a developed society we also apply morality and intelligence, we protect and support everyone, recognising that all have something to contribute and brute strength is not the only value.  A quota is not a dirty word; it is just a government exercising its very considerable strength to provide a breathing space so that a less powerful, but valued contributor to the market may survive.  The Americans will continue to make billions from our market, but some of the money generated from people sitting in large dark rooms will stay in the UK to generate more films and if the coalition government are serious about supporting entrepreneurs, so that they will build business and help dig the UK out of it's debt mountain, then they should seriously think about this.

I would really love to know what other people think about this and see a dialogue develop, there is a real argument to be put here and something really needs to change somehow, so please share your thoughts.
DS