We have recently introduced a new category in the Shooting People bulletins called Crowd Sourced Projects, recognizing that we need to create a new space for Shooters to promote their crowdfunding endeavors to the Shooting People community.
I was delighted to moderate not one but two panels about crowdfunding recently – starting with Ain't Too Proud To Beg at Sheffield Doc/Fest, followed swiftly by another one at CPH:DOX.
The Sheffield panel was interesting because it was divided into three sections – first I spoke to people running crowdfunding platforms like IndieGoGo and BuzzBank; next I spoke to filmmakers who were experimenting with this mode of fundraising, like Emily James who is currently hard at work raising money for Just Do It; and finally I spoke to a social psychologist, Stephen Reicher, who talked about the psychology behind giving to projects and about what it means to create real community. Stephen used an interesting analogy to talk about how people can come together to form a community of sorts: Imagine you are on a train traveling from London to Sheffield. Half way through the journey the train grinds to a halt. Nobody really looks at each other at this point. The people sitting in a carriage are strangers, individuals who share space but nothing more. After about an hour, with very little explanation from the conductor about what is wrong with the train, the passengers begin to talk to each other, venting their frustration about the delay. As time progresses and the train still does not budge, these strangers continue to chat, perhaps they even share their sandwiches with each other.
How do we go from sharing "space" online to sharing our proverbial sandwiches?
One of the best ways to ensure success is to bring your ready-built community to your campaign. Franny Armstrong was in the audience at the Sheffield panel and said that she had raised all the money for The Age of Stupid from their very large mailing list.
There are a few best-practices, however, that can really help you if you are building a campaign from scratch.
One is to make a fundraising video and put yourself in it. The CPH:DOX panel was with Yancey Strickler from Kickstarter and Simon Klose who raised $51,424 for his film about The Pirate Bay on Kickstarter. Simon's video is clear and engaging:
Simon's three tips for success were: a great topic, a strong community and heavy traffic. He was helped in the achieving the last two points by having a link to his Kickstarter page on the Pirate Bay site during the first three days of his campaign. Pirate Bay is among the top 100 sites in the world so this was a pretty big deal. Within three days he had reached his goal of $25,000. Yancey talked about the importance of being realistic about the amount you are hoping to raise. He also mentioned that 30 days is generally an ideal length of time. You need to create a sense of momentum so it's important not to give yourself too much time. It's also a really good idea to get friends and family to give you money right at the beginning because people are much more likely to give if others are already on board. You'll generally find that you get a spike at the beginning that then tails off and then spikes up again right at the end as the deadline looms so create your strategy with this in mind. In terms of promotion, Yancey listed the most important tools as email, Facebook and Twitter, in that order. Your email list is important so make sure you build it and use it wisely! Only 45% of projects reach their fundraising goals on Kickstarter and if you do not reach your goal nobody gets charged so it's really important to plan your campaign well: set clear goals, personalize your campaign and work hard on audience engagement. Get everyone sharing their sandwiches!
Kickstarter is currently only available to creators with access to a U.S. bank account so bear this in mind if you are not based in the USA. This will change soon and in the meantime there are other platforms that you can use, IndieGoGo for example.
In an unexpected surprise, Simon received his Kickstarter check in the middle of the panel. Which made us all very happy, Simon most of all!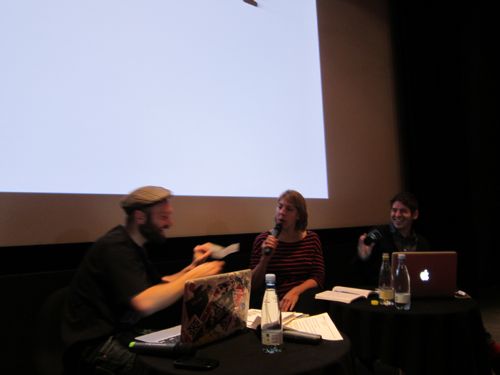 Simon Klose opens his Kickstarter check while I ask him endless questions and Yancey Strickler captures the moment on his phone.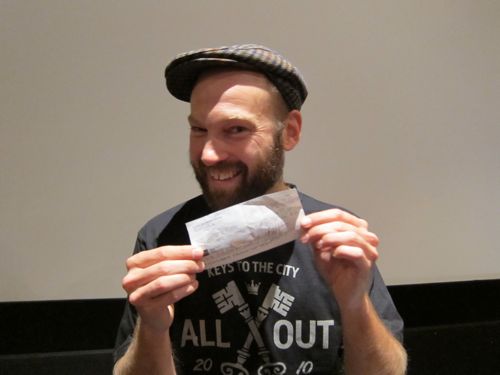 Simon with his check!