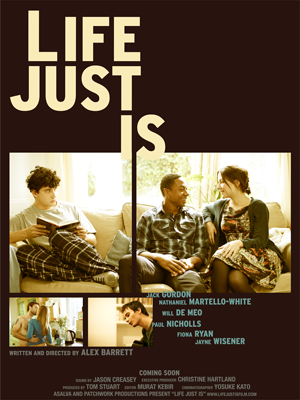 The makers of independent feature film Life Just Is announced Soledad del Real as the winner of their global poster design competition.

Launched in December 2010, the competition invited aspiring designers and creative students to submit designs for the film's lead poster. Over 100 entries were submitted by students and graduates from 23 different institutions based in eight countries spread over four continents. Nine of the entered designs were shortlisted by a combination of a public vote run on the film's Facebook page, and the decisions of a panel of industry experts comprising Robyn Larkin (What is Bobo), Stacey Parks (Film Specific), Stuart Coles (Walt Disney Studios UK) and Justine Priestly (Really Bright Media).

The ultimate winner was chosen from the shortlist by the film's writer/director Alex Barrett, producer Tom Stuart, and executive producer Christine Hartland. On the reasons behind their decision, Barrett has stated: "We were particularly impressed by the way Soledad's design managed to set up the film's three main story strands and all six of its main characters in such a simple and economic fashion."

All 104 of the entered designs are currently being collated into an e-book which will be given away for free on the film's website in due course.