Yes that is the most awful pun I have ever written but I'm in a geeky mood so you'll have to bear with me.
Geeky because I've been turning my attention to the ways that my iPhone could start becoming one of the most important filmmaking tools I own. I'm not just talking about its capabilities as a camera, with or without the new 35mm lens adaptor.
I've been playing with two new apps over the weekend, the DSLR Toolkit and Soluble's production scheduling app Shotlist, neither of which are designed to capture images but both of which hope to become essential purchases for every filmmaker.
Reviews of those are coming shortly but they are both brand new releases whose developers are well aware that they still have a lot of ground to cover. First of all I thought I'd best touch upon the grand-daddy of iPhone filmmaking apps, Movie*Slate from Pureblend.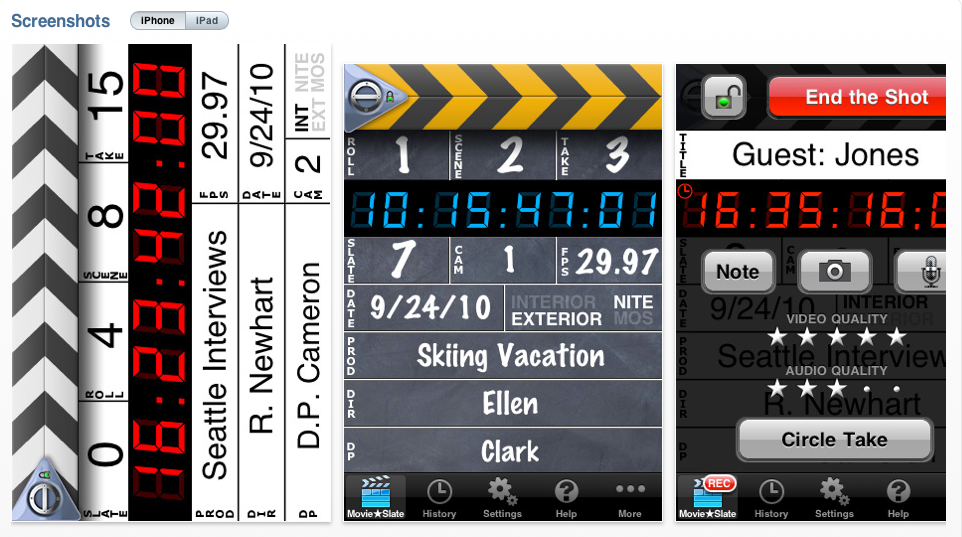 This is the one you might have seen in the advert but I have to say it more than lives up to the hype. The big mistake that a lot of developers make in this field is imagining that filmmakers are just after new toys, but despite appearances to the contrary this isn't actually the case. It is not enough for an app to mirror existing technology but in a format that's a bit smaller than is quite convenient. Despite rumours about the idiocy of iPhone owners, most people won't actually buy your app just because it is an app. (OK this argument sounds shaky after reading this…)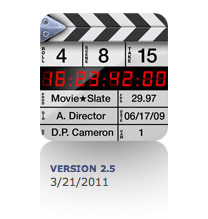 There are lots of clapperboard board apps on the market. It's a simple idea, slate information in big text on the screen, a beep and a flash to give sync and away you go. So far so much of a gimmick. Is typing the information into your phone any less fiddly than the real world version? No. Is a real clapper board more satisfying to use? Of course. Will a real clapper board run out of battery halfway through a shoot? You get my gist.
But Movie*Slate is a stone cold killer because of all the other stuff that it does. It has the simplest note taking interface I've yet found. It's easy to enter all the set-up info at the start of the take and easy to populate this information across slates, keeping data entry to a minimum. Better still it's easy to enter shot information after the take, easy to circle takes, note down shot size, weather conditions all the rest. Most importantly of all it's super easy to export this information into a variety of formats, not least straight into Final Cut.
Movie*Slate is also great at communicating with other iPhones. For instance, the information above is usually the job of two different people, the camera assistant and the script supervisor. If both have Movie*Slate on their phones they can sync and share the information.
The whole point of working in the digital age is that the technology should allow for large amounts of information to be rapidly duplicated and shared. As soon as you're retyping something you know that there is a problem with the workflow. The Move*Slate shot log export function is a damn fine example of how good this technology can be. Now rather than giving the editor a stack of folded pages with scribbles on, I can email shot notes and know that they will go direct into the edit, automatically linked to the footage.
There are sadly though still some limitations. One of the features that at first caught my eye was the ability to make notes as photographs and as sound recordings. Anything that cuts out typing on the iPhone is a winner in my book and I liked the idea of being able to make notes on a take just by dictating them into the iPhone. So far though I've yet to find a way of including this data in the export (it gives a note that the file was referenced but I can't see how it could send the actual file over…) not being able to export this stuff does limit it's value.
I'd also love to see the app make use of the metadata created by the camera. The notes automatically include geo-satelite information about where the shoot is taking place, but this comes from the iPhone. They're worked out some very smart ways of syncing timecode between the app and the camera but as far as I can see the camera assistant still has to manually input a lot of the metadata about the shot that the camera creates automatically.
But I'm picking nits. This is a great app which takes the moderately convenient idea of a clapperboard on your iPhone and turns it into an amazing tool for allowing a group of people to share their notes on the day's shooting.