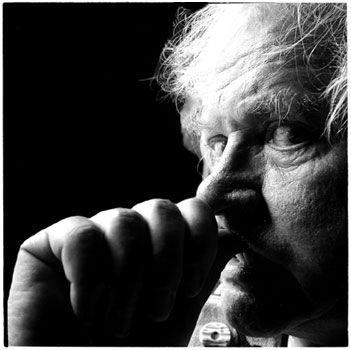 The other night I snuck along to a preview screening of the new digitally remastered copy of 'Aria', which is new out on DVD. For those who missed this first time round, 'Aria' is a portmanteau film in which producer Don Boyd gathers a collection of directors and gets them each to visually interpret an operatic aria of their choice. Not the sort of thing you can imagine many financiers going for these days, but since the directors in question include Godard, Altman, Jarman, and Ken Russell you can see why I was keen to tag along with my mate Kate.
Little did I realise that the nature of the screening and the invitation would include a chance to mingle in the BFI Southbank's sublimely dingy green room and meet some of the people behind the film.
Generally speaking I'm not much of a fan of meeting either my idols or otherwise 'famous' people. It is rare to meet someone whose work you appreciate in a situation where you can really ask them anything actually interesting, so you tend to end up having a super-powered version of the meaningless conversation I normally save for taxi drivers. In both cases the onus is down to them to make the running and if you're lucky all you really have to do is nod, and try to sound like you agree with whatever mad or pointless thing they're getting animated about and hope that it doesn't turn out to be racist. In both cases your opinion is just an oil to keep things moving until that blissful moment when it's safely finished and you're either a. home or b. allowed to leave and start texting people that you've just met so and so. Or, in the rare case that you've met someone who's fallen on hard times and is driving a cab to make ends meet, both.
However I have to admit that meeting Ken Russell was an absolute delight. He was sat by the door, a multicoloured walking stick in one hand and his long white hair flowing onto his shoulders. I could have just written "looking like God" but I didn't want to dive straight in there for fear of getting needlessly embroiled (in your mind) about what you happen to think God looks like if he/she/them/we exist. But, if you leave all that crap aside and just run with the basic cultural concept of what God is supposed to look like then, bang, that's Ken Russell.
Before being introduced to him it's pointed out that it's not so easy for him to stand, so I kneel before him and without hesitation he offers me his hand, and if there'd been a ring on it then the instinctive authority of the gesture would have made it all but impossible for me not to kiss it. Like you would if you actually met God and he turned out to look like Ken Russell.
Don introduces me as a filmmaker which I thought was very kind of him because, with no false modesty at all, out of everyone in the room I'm probably the least entitled to the title. Anyway, Ken smiles at me and asks the usual question that people ask when they're told that you are a filmmaker – "Oh really, what sort of films do you make?"
My preferred answer to this is "my sort" but the enjoyable arrogance of that statement would ring rather hollow in my present company so I resort instead to my other option which is less satisfying. Then he asks me the best question I've ever been asked about my filmmaking.
"Is it fun?"
It's not a question any taxi driver has ever asked me and it leaves me a little speechless for a moment before I offer something like "usually". He laughs and gives me the sort of unguarded smile of approval that is, and I promise this is the last time I'm going to use this metaphor, just the sort of smile you'd want from God, where he to turn out to be Ken Russell.
We talk some more, mainly about filmmaking and his segment of "Aria". He is – quite simply – utterly delightful. I guess it's easy for him to be such as, after all, in talking to me he has nothing he needs to prove nor nothing to gain but laughter. After what seems like all too soon, I notice his wife casting a protective eye towards us. Not wanting to either tire or bore him, I make my excuses and leave, feeling honoured to have accidentally met such a lovely man.