Hi Everyone,
Film of the Month this month had an a huge amount of entries, of course only 10 can battle it out to be seen by Danny Boyle. Watch and rate each film out of 5 and the top 3 at midnight on the 30th will be sent to him for judging.
The filmmakers are going to tell you a bit about their films…
Believe – Richard Addlesee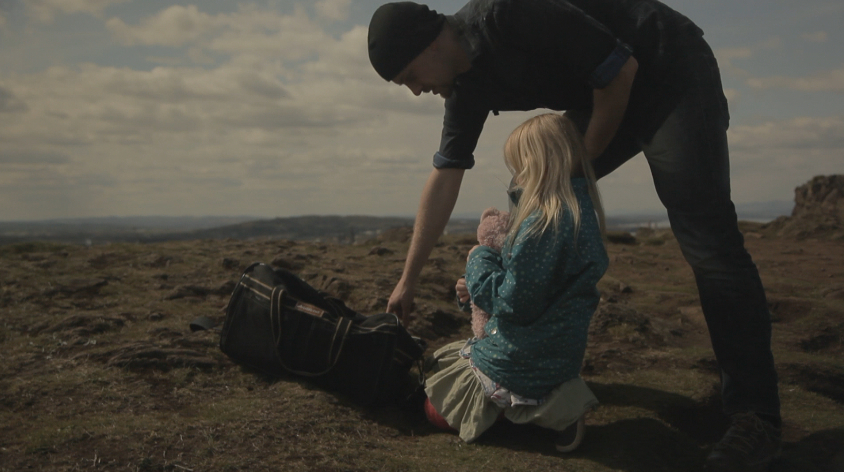 Believe was a production a long time in the making, the script was actually written way back in 2007 as one of the first assignments director Richard Addlesee (@RickAddlesee) was given when studying Media, Writing & Production at the University of Bolton. The short film retained it's ties with the University with the cast and crew all being friends and technicians Richard met while studying there. Director of Photography Mark Baron and Visual Effects Artist & Colorist Paul Willis (@Paul_S_Willis) are both Technicians that work at the University. With Chris Gardner, composer being a mutual friend. George Makin (who also plays the briefly seen tramp), actress Samantha Deas, her fiancé, actor Marc Young and his daughter, emerging actress Lucy Young re all close friends of the director. This lead to the production being an extremely enjoyable and fun shoot. The shoot was split over various locations with the entire team traveling up to the city of Edinburgh for a weekend in early March 2012 to shoot around Arthur's Seat just on the outskirts of the city. The remainder of the short was filmed around Greater Manchester in June the same year.
The main outdoor locations for Believe were scouted months in advance by director and producer with the pair scaling the dizzying heights of Arthur's seat itself over the course of a few hours and acting out the scenes while one took photos: In dense fog, in gales, in January….in the rain. The pair believe the experience was well worth that effort as on the shooting days there was little down time to be had.
The score for the film, which all cast and crew consider to be a very strong element of the film, was created by composer Christopher Gardner, with a little producing help via DOP Mark Baron. Chris was given a very rough outline of what the desired score would be as the director was unavailable to sit in on many of the recordings. However Chris pulled it out the bag with an impressing and resonant score that really compliments the on screen emotions.
The lead actress Lucy was a complete joy to work with, a constant source of entertainment on set with bags of energy and enthusiasm. Also an excellent keeper of secrets as she and the director were able to consume several bags of sweets over the various shooting days without sharing with the rest of the cast/crew.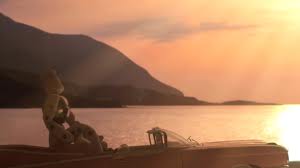 Address is Approximate is a personal project by The Theory – The idea came when we wanted to use stop motion animation to animate Google Street view (a technique we had never done before). We then found inspiration by looking endlessly for music to inspire us and the story. We found Arrival of the Birds by the Cinematic Orchestra and then our imagination took over. We have an incredible love for toy's, gadgets and robots  – our natural story telling instinct took over.
All screen imagery was animated – there are no screen replacements. Directed, produced, acted, animated, filmed, lit, edited & graded by The Theory (Simon and Tom) and shot entirely on the Canon 5d, Dragonframe Stop Motion software and a customized slider.
Winning the Shooting People competition means everything as it would mean our work in liked/respected by our contemporaries and judged by Danny Boyle – we are huge fans of his work. Sometimes when your are close to a project you can't see how good or bad it is so to win would mean we are, at least, on the right track.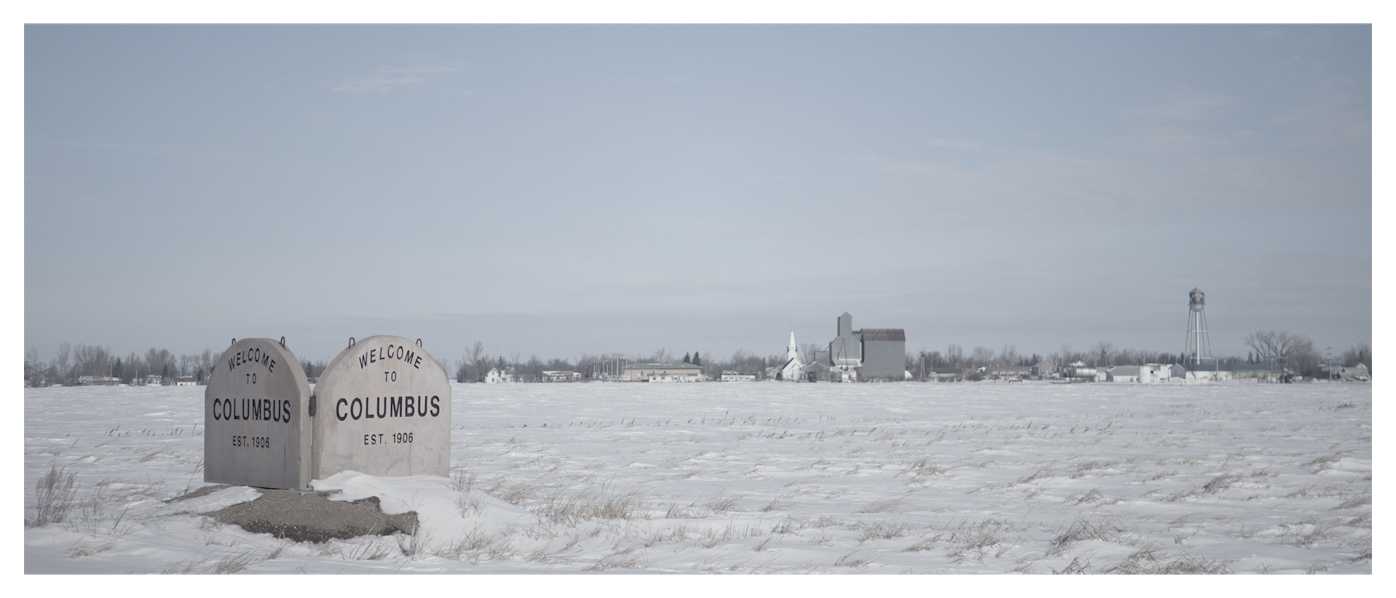 Its a great privilege for Oil and Water to have made the selection in the final ten films of the Shooting People Film of the Month competition. Thanks to everyone who voted.We had five shoots over a year and a half, flying in and out of North Dakota in two week stretches, to capture the story of the little town of Columbus and the impending oil boom. We filmed a lot of stories and came across many interesting characters which unfortunately for one reason or another never made it into the final story. Bob was one of those stories. Having lost his job in Colorado he found himself having to move to North Dakota where he found work as a truck driver hauling water in the busy oil fields. A charming and lovely man it was a real shame to see footage we shot with him go to waste. Particularly as so much of it was filmed in freezing conditions of -40 celsius, which the camera, a Sony XDCAM700, handled extremely well and without any problems.So we cut this little short film, a fascinating insight into someone's hard life working far from home and the lonely existence in the far away prairies of North Dakota.This is also a way of life I would like to think people wouldn't expect to see in the US. Columbus is a tiny insignificant little town situated dead in the centre of the United States, seven miles from the Canadian border. Summers are hot and the winters are harsh and long. The town has no shops and there isn't much to do in those parts apart from work, hang out in the cafe at lunch time and then drink in the bar speculating about oil in the evenings. The oil boom is creating so many jobs that North Dakota is one of two or three States in the US who are in the black. Men and women are flocking there from all over the country for work and unemployment is probably one of the lowest in the country. There is no need to be unemployed as work is aplenty.Being the only Englishman for miles made me stand out like a sore thumb, especially in the local bar where the locals would love to compare the UK and the US, so discussions would veer from talking about the merits of the NHS to comparing Socialism with Communism and why everyone should carry a gun. I was stepping into a very different culture and sometimes dare I say it without sounding facetious, it was like going back in time. The people of Columbus were amazing though and welcomed us when there was no need to do so. An incredible experience I shall never forget.
Conversation Piece
– Joe Tunmer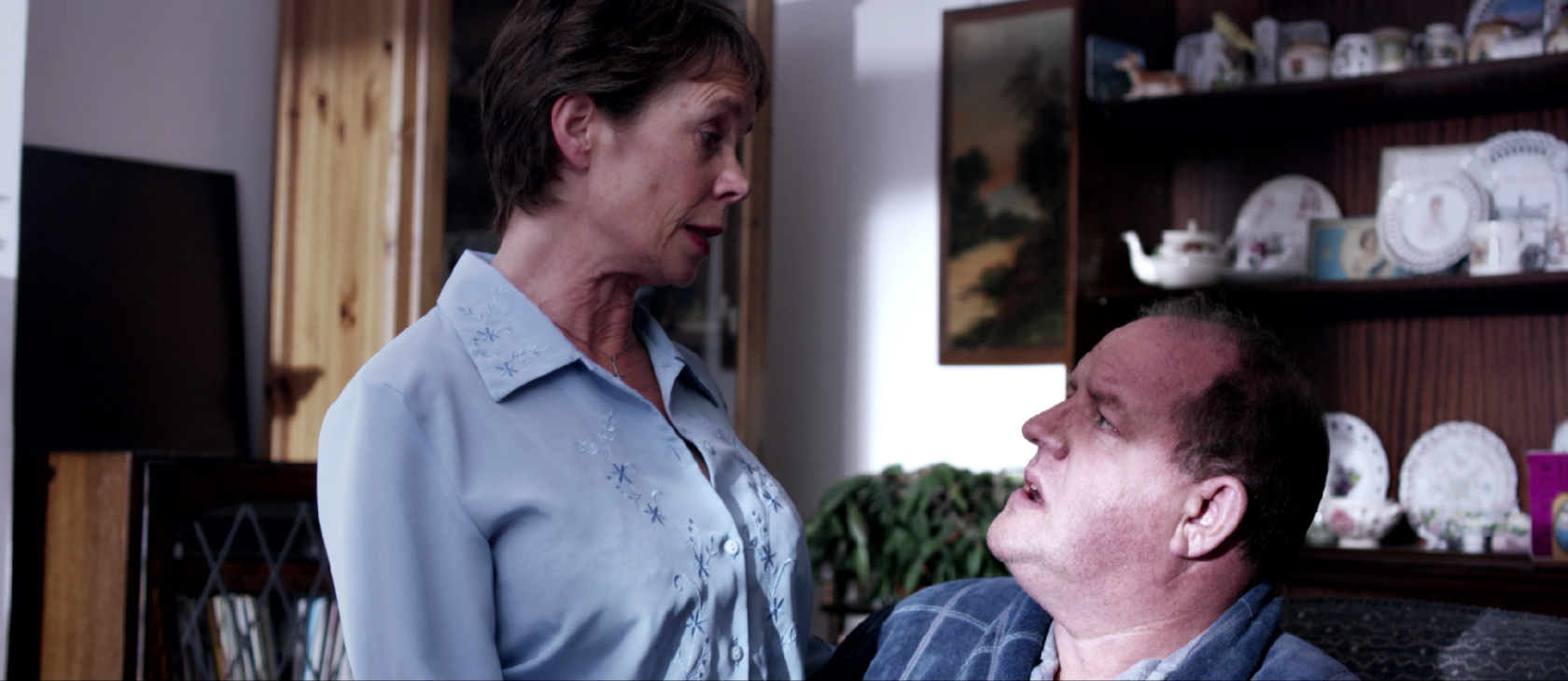 Huge thanks to the Shooting People community for voting our film through to the Final Round – we are really honoured to be here, and appreciate everyone taking the time to watch and vote for us.

I had wanted to make Conversation Piece for years after I heard Rex Stewart's obscure, improvised 1966 performance creaking out of my radio late one night. I felt the music might provide a good backbone on which to try and make a touching, humourous musical-comedy-drama-type-thing.

Music and film have always been my twin obsessions, and this seemed a great opportunity to play with both. The track sounded, in a very abstract way, like an argument between two people, and the whole film sprung to mind the moment I first heard it. I transcribed it out on manuscript, and wrote a script whereby every single syllable of dialogue matched every single note of music.
The shoot was relatively simple – two characters, two days, one location, but the prep wasn't. John Henshaw and Celia Imrie not only had to learn their lines, but they had to learn them in time, too. We had to storyboard and edit the whole thing before any camera rolled. We then shot it like a music video, with playback, and they did a fantastic job of keeping it together. Our crew were amazing, across the board. Everyone went completely above and beyond, and the film benefited incredibly from their devotion to it – we've played at 45 festivals, won 6 awards and sold to 3 territories. If you'd like to know more about the film, including a production blog and a function where you can read the script along with the music, please visit www.conversationpiecethefilm.com 
All the best,
Joe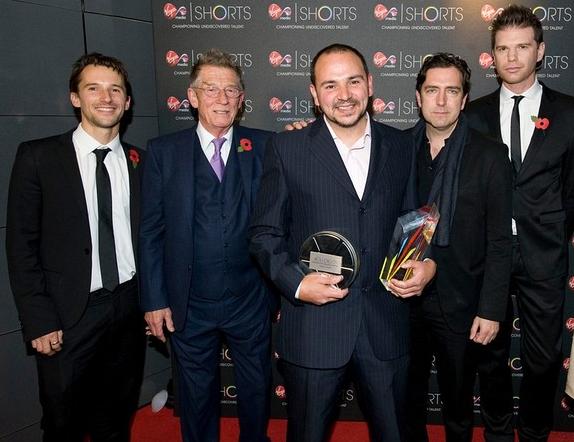 2:20 was made specifically for virgin shorts which we won the grand prize last year.  The film was made in response to what our team considered to be a perfect love short Oscar Sharp's 'Sign Language' which had won Virgin Shorts the year previously.  We recognised that love stories did well in the competition but didn't think we could do one so we opted for a death story instead and one that you see someone's demise in real time.   It was four nights hard graft shooting through the night in Manchester.  A tough but rewarding experience, we met some colourful people along the way including some of Manchesters most notorious gangsters.  We all came through unscathed and we were thrilled to win the competition.  VMS is amazing and I strongly recommend to all Shooting People members that they enter.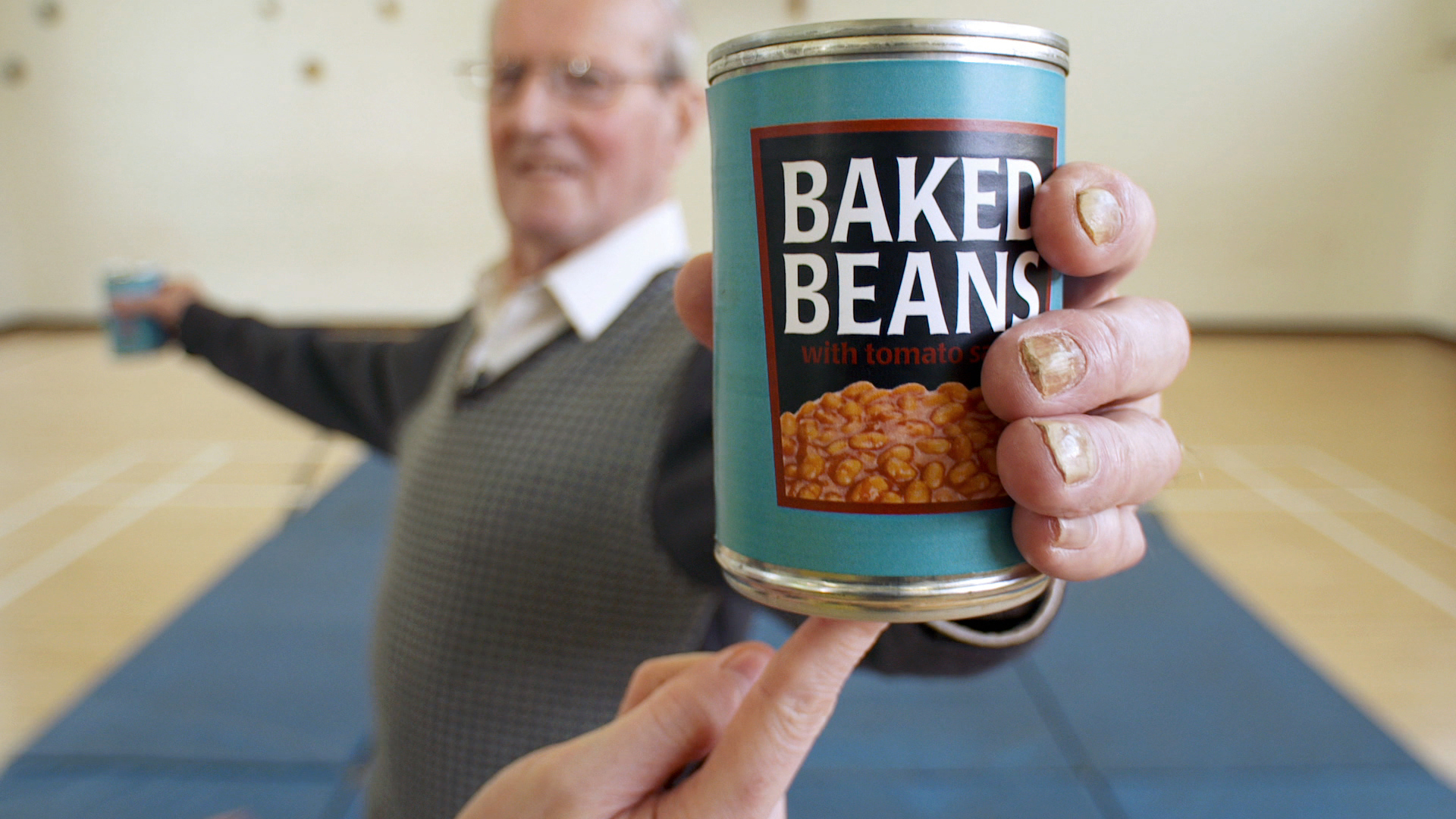 Firstly I just wanted to say a quick thank you to everyone who helped us make the final round.‬
Both myself, the crew and George are very proud that you have enjoyed watching our film.
We're all hoping for a fitting end to our year-long festival run, but come what may our journey with the film has been a truly wonderful one, and most importantly, one that has made an old man very happy!‬
Many, many thanks!
Kate
How the film came about:
I first met George a couple of years ago. He was 89 and spinning on his back on a concrete floor in the middle of an entrance hall. I assumed then and there that this was going to be the best thing I see all day, until…he stood up and displayed the most amazing posture! He radiated this incredible, almost angelic sublime elegance! I stood transfixed, in awe – and envious. You see I have TERRIBLE posture – but luckily that day something helped me overcome a bit of self-consciousness and ask George (who unbeknown to me was an ex-Olympic gymnast and coach) for some advice.
Well to cut a long story short this kind, generous man offered to give me a few posture lessons. No gym equipment was used – or even a gym – just his front room at his home in Richmond, which I began to visit every couple of weeks of so. At times that I'd think, "isn't this a all a bit odd?!" but I trusted my coach and anyway, his stories were making me want to keep returning. (I think that this must have been the longest time I've ever managed to keep up a gym-membership!)
Weeks turned into months and I began to take a long a small video-camera along with me to record these meetings and my bus-rides back home I'd watch the footage, sit (up a little bit straighter) and reflect on how it was the ideas and the man behind the exercises and not the exercises themselves that were starting to have an effect on my posture. When I heard about film London's scheme to help first time film makers make a film I thought this would be an ideal opportunity to pitch an idea for a film about George because I really wanted to as many people as possible to hear his stories. I suppose I also wanted to in some way immortalise him – in return for the posture advice!
It also so happened that at this point in my life I was also starting to recognise a few recurring themes in my work and it was a thrill to realise that they were all present in what I was planning for Walk Tall. And finally I also wanted to as George would say "challenge myself" and attempt to dramatise a story and also to make an audience like a character, without being overly sentimental…
(George is a lovely bloke, but he's no Werther's Original granddad. He's kind, generous and open-minded, but also is a highly determined, tenacious man who continues to test himself on a daily basis.)
And so anyway, thanks to George, I made my first film.
– And I'm chuffed to say that it's had some really nice feedback  (from people including George!)
– And this has of course all left me walking a lot taller!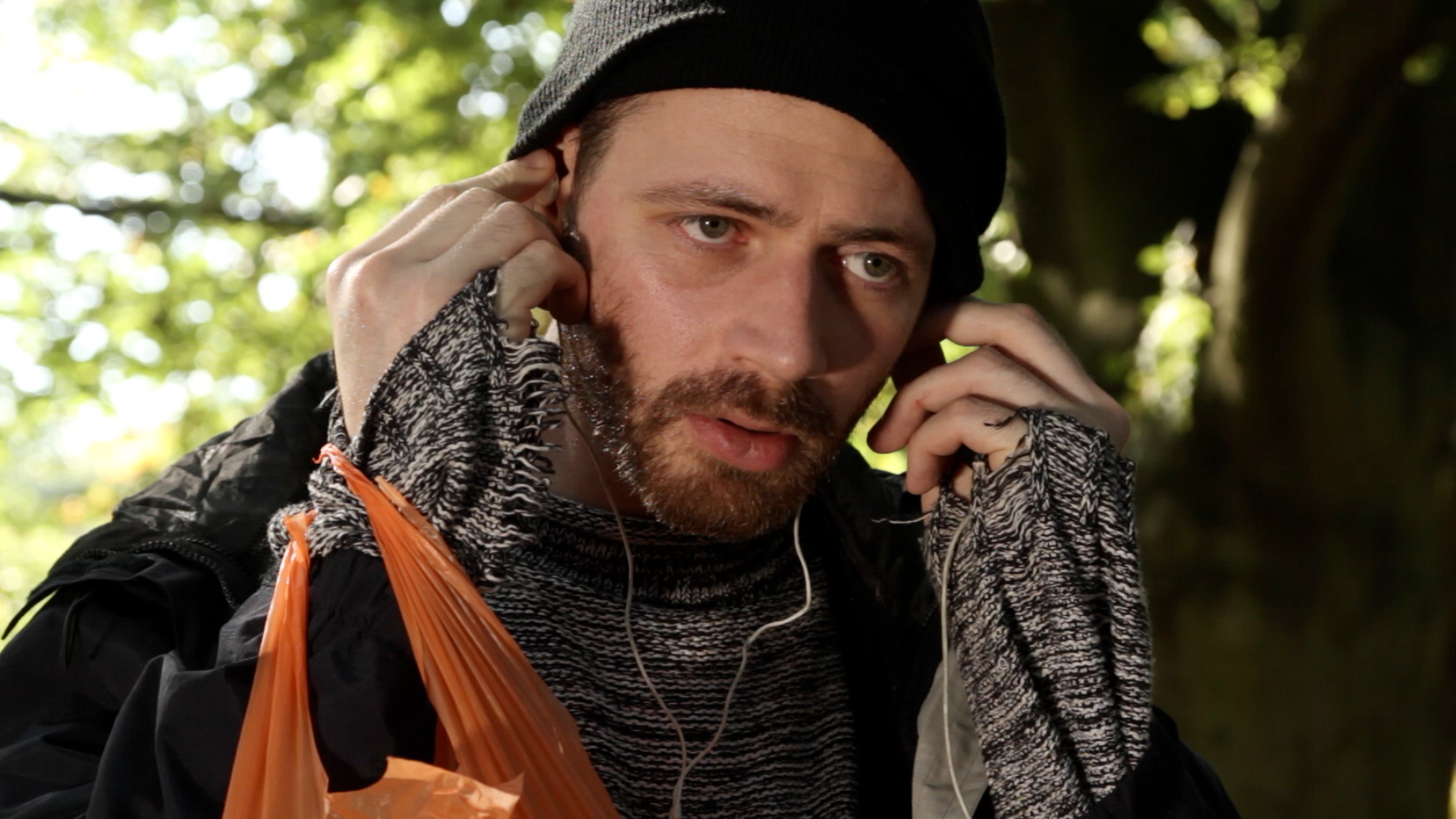 One unseasonably warm day in October 2011, I set out early with a small cast and crew to shoot a film on Hampstead Heath.
We had no budget to work with at all, so we had already decided to set limitations for ourselves, and to embrace those limitations in the spirit of creativity. We used only outdoor locations, natural light, a small cast and crew and an ever smaller DSLR camera.
The film that resulted is A New Day, which tells the story of a lonely homeless man's encounter with a self-help recording on a lost iPod. The story reflects my interest in states of mind, the place of the individual in society and the fate of those excluded by society.
I put A New Day forward for Film of the Month because I think it shows what can be done on a shoestring budget with a little imagination and a little collaboration. The film probably wouldn't have existed without Shooting People, where the cast and crew met, so it's also a tribute to Shooting People's ability to bring creative people together.
Kieron ClarkWriter, Editor, Producer and Director, A New Day
Trunks
– David Hewitt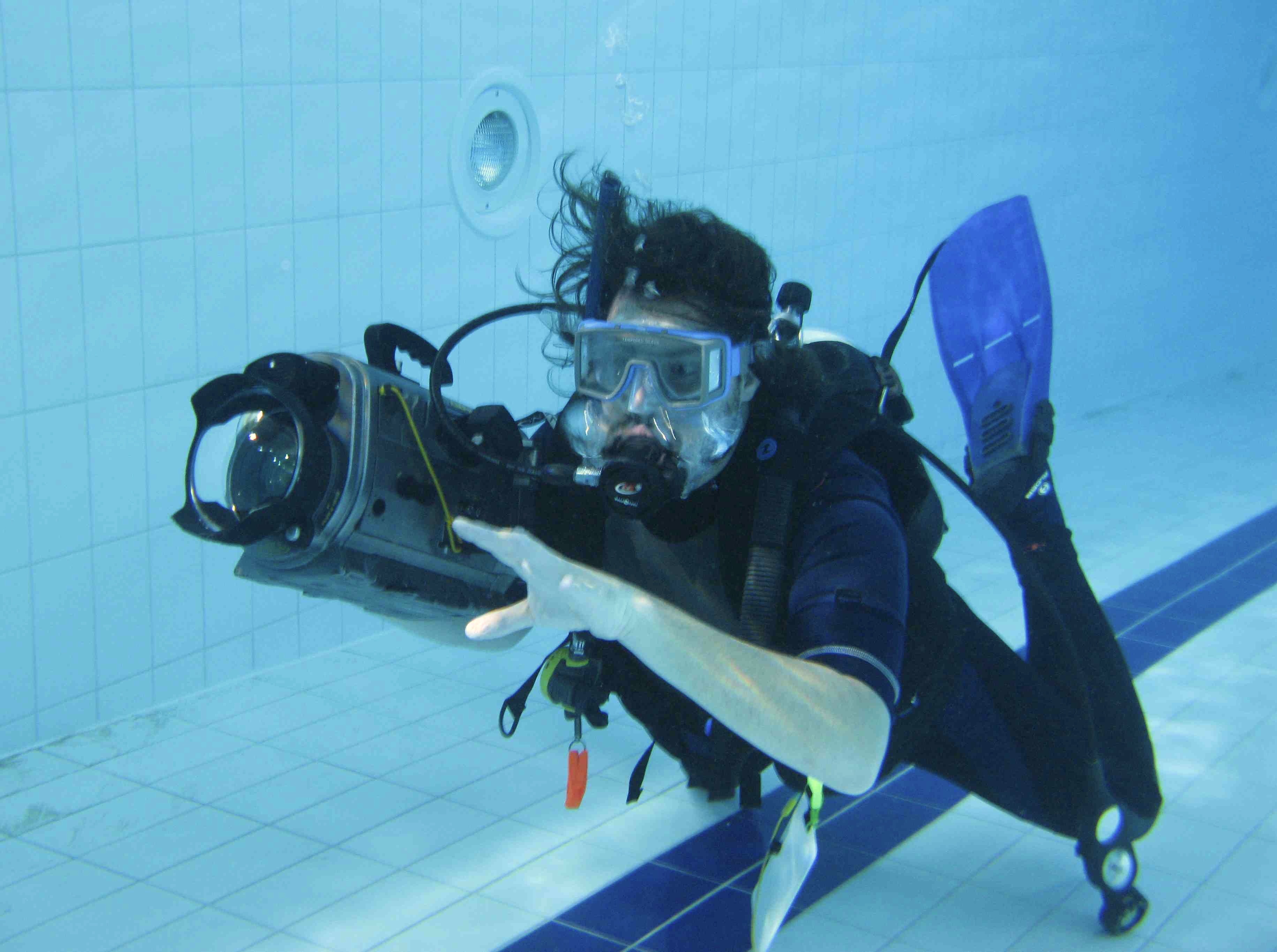 'Trunks' came about from a spec script that Kevin Money wrote. It was then submitted for funding via digital shorts schemes and it got to interview stages.
The various committees loved the concept in the film, but it was ultimately turned down because they did not think the film was achievable.So we decided to do it ourselves. We pulled in favours left, right and centre.
Obviously the largest obstacle was to find a suitable swimming pool that
we could control for the shoot, so I waited for summer holidays and started
to contact schools, which had swimming pools and were not using them.
Eventually, Guildford High School for girls was willing and we shot the film over
three days. It was made independently, without any outside help/fundingbut with a lot of borrowing of camera, lights and scuba gear. There was a lot of lending of people's time and the main currency was smiles and gratitude. The budget was £1100 (personal credit card) and the editing/
sound design took several months!The style for the film was to explore the use of sound over visuals
and vice-versa. I am fascinated with people and wanted to tell a story that shows the difference between what is often 'said' versus what someone 'does'. This comes to its natural ending in the story where the images and audio go in differing directions. Truth on screen (and in life) is
judged by actions rather than speech, which is why we chose to juxtapose the two against each other in this film. The aim was to give the audience a more complex understanding of what Steve is actually feeling inside and what this change means to him on an honest level. The audio conversation
in the pub provides a history and relationship context to the man and the woman and an outlet for him to describe his feelings (which may or may not be true) while the swimming pool was his experience, more visceral and where the truth ultimately happens.The impetus was to make a cinematic film that experiments in narrative method whilst keeping an emotional story-arc for the main character. The
resulting film is all thanks to a wonderful cast and crew who gave theirskills and time and I am very grateful and honoured. Filming five complex sequences underwater had its challenges with lens sizes and logistics and sometimes I think I was crazy to attempt it, but I hope you enjoy the result.
Moments
– Ida Akesson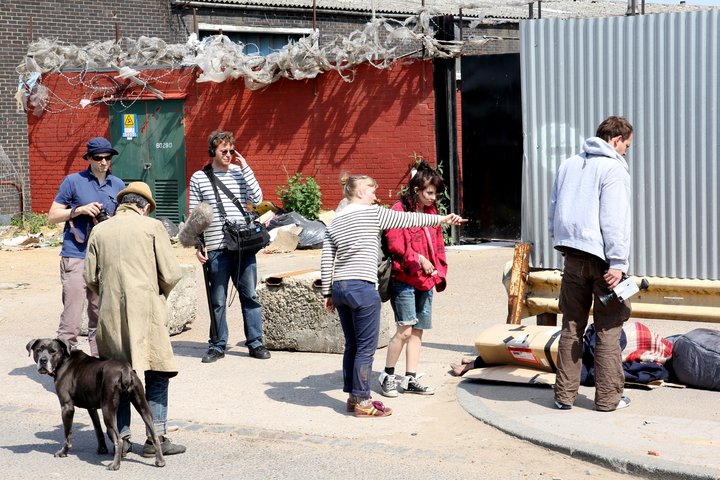 For me Moments was one of those projects that came together really quickly and kind of just worked. I had shot some test footage in Autumn 2010 and then in 2011 the Eastern Edge Film Fund kindly agreed to support me and get the film made.The film was shot around Barking in some industrial estates that was so wonderfully scruffy and looked just as timeless and place-less as I wanted them to – I wanted it to look a little bit like it could be any city any time, like a fairy tale almost.I also wanted the street extras to come across as authentic as possible and had to go to some trouble to find the right people. One guy I found whilst cycling around the industrial estates on my bicycle looking at locations – he was living in a van outside the waste
transfer unit – my favorite location! I had to go back a few times to talk him into taking part
but in the end he came along and turned out to be a really nice guy.Another member of the cast had recently lapsed his drug rehabilitation and called up saying he wasn't feeling well enough to take part on the day. We had to halt shooting – whilst I again had to work my persuasive powers – and he also made it along, I think it was the promise of a hot meal that did it.Finally I was lucky enough to have a really great sound team – most notably a piece of music by Andrew Horne, sound design by Rebecca Lloyd and a score by the legend that is Simon Fisher Turner, to me the sound is what really makes the film.To be picked as a Wild Card by Shooting People is awesome and I'm most grateful. I can't
believe that the film has had nearly 2000 views! Big up Film of the Month!
Sigur Ros, Varuo
– Daniel Grasskamp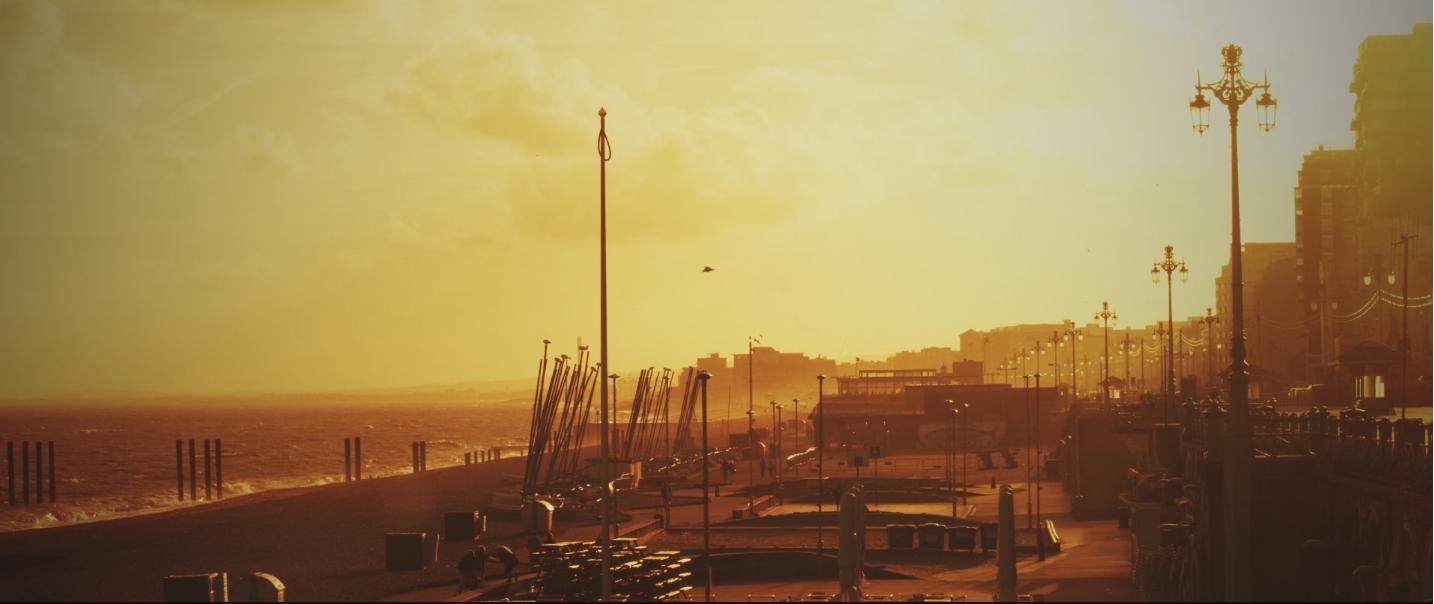 I would like to say that this video was planned and carefully thought out. However, the coincidence of having a RED Epic at hand from a shoot earlier that day and witnessing the most beautiful sunset in months was an opportunity I wasn't going to miss. Together with fellow filmmaker Daniel Gahnstrom we took a documentary approach, observing our surroundings and capturing whatever sparked our interest during the magic hour. Only later, in the edit did it become clear that the footage shot worked particularly well in combination with the beautiful song Varúð
from the new Sigur Ros album.  It is a real honour to be in the final round of this month's competition 
along with so many fantastic entries, 
even more so since the film is a product of chance and coincidence that I am particular proud of.