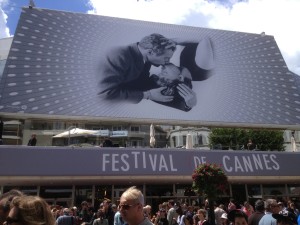 OK so I'm almost at the end of my Cannes trip and although it's been exhausting, I've come away inspired.  Here are some of the best moments of the last two days…
The US Directors' talk at the American Pavilion was completely taken over by hilarious Hollywood renegade James Toback, director of 'Seduced and Abandoned', a satirical doc about the film industry shot with Alec Baldwin in Cannes last year.  Toback decided 'it should also be a movie about death' and so asked each contributor, 'Are you ready to die?'  Toback said he had 'thought about bombing Cannes' when his movies weren't selected and claimed 'I had to threaten the lives of two people' to get one of his movies made.  His agent once told him to give up on a project and move on: 'Move onto what?' Toback says, 'I don't have anything else to move on to. Let's get this fucking movie down!'
'Don't give up.' was the message from Cassian (Margin Call) Elwes at a session on international casting.  I may have been tired and suffering from information overload by that point but that actually brought tears to my eyes.  He said, 'It might feel like you're facing a black hole' of problems trying to cast, raise finance and get your film made, but keep going.' It was truly heartening that Hollywood producers want you to succeed in spite of the odds.
Cannes is not only a circus, it's a village of film makers, low budget and high end, coming together to talk, do business, get movies made, not just shown at the glitzy premieres. And the people who come here year after year do it to keep in touch with the friends and business contacts they made the year(s) before.
I came to Cannes not knowing how it worked. I'm leaving with a much stronger sense of the international marketplace, who some of the key producers, funders, talent managers and distributors are. I've made new contacts among the British contingent, reconnected with producers I worked with a long time ago, and made new friends with film makers around the world.  I've spoken to producers and casting agents who've agreed to read my synopsis, and have a list of companies  and individuals to follow up with after the festivals. I'm considering shooting in New Mexico instead of Arizona or Canada for the United States to take advantage of the tax breaks and production opportunities.  I have a much clearer sense of where my project and I sit in the international marketplace and the advantages of being in the UK too.
Three last bits of advice if you're heading to Cannes next year:
Don't lose your accreditation badge – it costs 30Euros to replace and they give you an old fashioned look when you say it fell off the clip… what I can say? @AmPav have a lot of  parties…
You can attend screenings, take meetings, attend panels and party till you drop. But you can't do everything, so work out what you want from Cannes and you'll be more relaxed and focused than if you try and do it all.
Don't go alone if it's your first time. Take your friends. You need buddies to hang out with at all the parties, to swap information on events and contacts and to pick you up if you fall by the wayside and need reviving.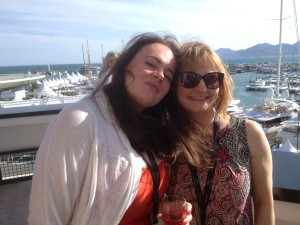 Cannes is a marathon. It's also crazy and expensive and weirdly addictive.  Is it too soon to book for next year?
@emlin32 www.emmalindley.net/blog