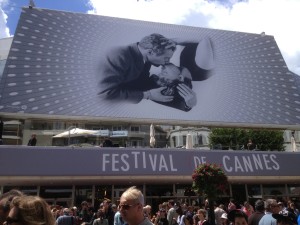 Cannes is a circus.  A trade conference in a fairground, a Eurotrash theme park.  Cannes is also, this year, very, very wet.
Imagine a deluge, a flood, whole days of torrential rain.  Men in tuxes, women in evening gowns and super high heels plus hundreds of regular film makers like yours truly, huddled beneath brollies, waiting for hours in the pouring rain to see a movie.
So what's the attraction? Why did I come here? What am I looking for in this sea of overpriced hot dogs and 8 Euros for a glass of wine (apart from a good wireless connection)?
I wrote a feature.  Like many of you, I am looking for a producer and it will need to be an international co-production.  So I have gone deep into the tarnished heart of the world's most famous film festival to see who's here, what's happening and whether I can find a home for my movie 'Anchor Baby'.
I've been here 24 hours and here's what I've discovered. These are the basics if, like me, you are new to Cannes and haven't set up meetings beforehand.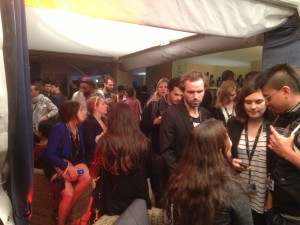 1)   The American Pavilion is the place to hang out between talks and screenings in what is essentially tent city by the sea.  The AmPav has free wireless, laptops and lots of space for eating, meeting and tweeting  – and waiter service!  If it feels decadent having someone bring a Twix and a tea to your table, that's because it is.  They also have great panels with visiting US directors and producers.  You can register beforehand for $100 or get a day pass for 15 euros. www.ampav.com See @AmPav for festivalupdates.
2)   The UK Film tent is the place to meet other British film makers and get up close and personal with influential panel speakers. The BFI are here in force this week as are commissioners and execs from BBC Films, Film4 and UK producers with films screening here. They also offer one to ones with UK funding experts.  www.weareukfilm.com  and @weareukfilm on Twitter.
3)   All the international pavilions are great places to meet filmmakers from all over the world (and gor for drinks), as are the queues themselves.
4)    You can see new films and see the directors, cast and key crew members at the many screenings happening every day and night. You can queue for 'badge' screenings  or book online if you have 'points' given to you on arrival BUT
5)   You must have festival accreditation.  Apply really early (Jan/Feb) and if you can show you are a filmmaker (CV, website, imdb page) it's free. Turn up on the day and it's 30 Euros a day, you need lots of ID and, although my friends got theirs (it's not a cert), you can't attend any screenings.  You can't get into anything without a badge.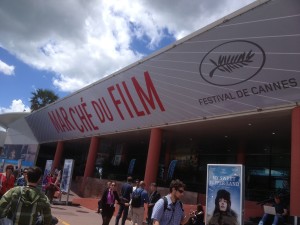 The first panel I went to today was UK Funders featuring top execs from BBC Films, Film4 and the BFI.  On the problem of specialist or low budget films finding distribution, Ben Roberts of the BFI agreed that there were 'too many films clawing for cinema space.'  Joe Oppenheimer of BBC Films pointed out that British filmmakers are competing with the global arthouse market not just other British films. Sue Bruce-Smith said that Film4 are moving towards 'Day and Date' simultaneous multi-platform releases for films like Ben Wheatley's A Field in England'.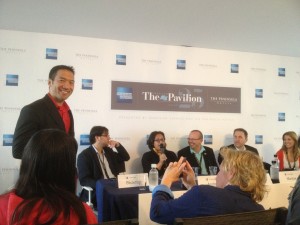 Over in the American Pavilion at the Digital Hollywood session, independent online distributors like FilmBuff, Fandor and Indieflicks offered an alternative model.  They pay filmmakers directly (often for each minute (or second) when their film is viewed online.  Steve Beckman of FilmBuff claimed online distribution allowed filmmakers to retain their digital rights, offered 'greater transparency in the deal and more freedom' in the way they distribute their film.  Jonathan Marlow said Fandor 'offers tools that allow the filmmaker to monitor how many views' they've had. Scilla Andreen, founder of IndieFlix and an ex- filmmaker herself, was looking to promote 'the filmmaker as much as the film' so was looking for films with a strong brand and story behind them, topical and sometimes (but not exclusively) 'mission' stories which could form the basis of a social media promotional campaign. This feels like the natural home for Kickstarter features or for films that don't have the cast or budgets to compete in the theatrical distribution marketplace and are looking for an audience.  It's also the future as modes of distribution converge and the time 'windows' between distribution platforms have all but disappeared.
OK so that's what I've learned in 24 hours in Cannes.  I also drank too much wine, got soaking wet and spent way too much money on cab fares.  I may no longer be a Cannes innocent but at least I know where I'm going – for now…!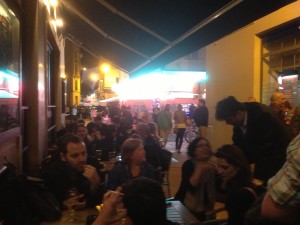 Next Up on my Shooting People blog: Finding the Americans – my search for a producer, advice from the man who produced Margin Call, and inspiration from James Toback, Hollywood maverick extraordinaire…
If you want to watch videos of some of the panel talks in the UK Film tent at Cannes just go to their site www.weareukfilm.com
You can follow me on Twitter @emlin32 or check out my regular blog at www.emmalindley.net   Good luck with all your projects!
Emma