Hi Everyone,
There's 10 films on our leaderboard in the final round of our monthly short film competition. This is what the finalists had to say about their films. Have a read, have a watch and rate each film out of 5.
Wildlife – Kevin Maynard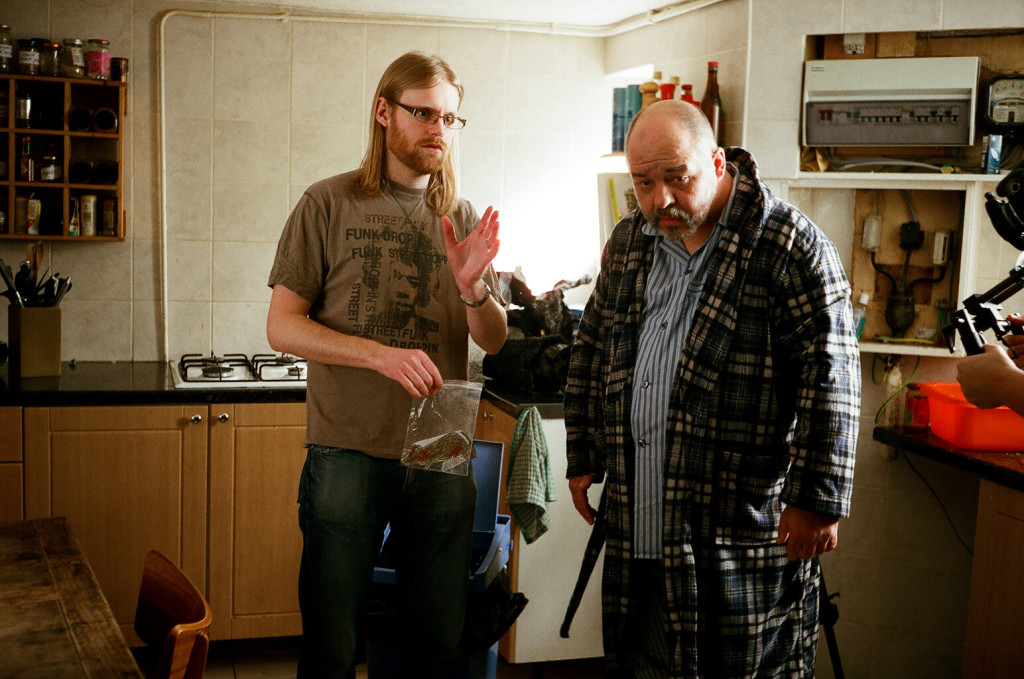 If you fill your house with animals don't be surprised when there's blood in the bathtub.
Wild Life is a dark comedy that explores one man's loneliness and the lengths he will go to for a little company. It was born out of a desire to work with the brilliant actor Robert Hamilton and also his co-stars who were first conceived in doodled drawings some time before the film was made. The combination of these influences led to this (hopefully) funny but sad little tale which was filmed in the DOP's home whilst we attempted to shoo his unsuspecting housemates out onto the street.
My ambition for Wild Life has always been to reach as wide an audience as possible and Shooting People's Film of the Month has already helped with this immensely. It means a lot to me to be included in the final ten and I hope people enjoy the film.'
Jeremiah Quinn – The Strange Death of Harry Stanley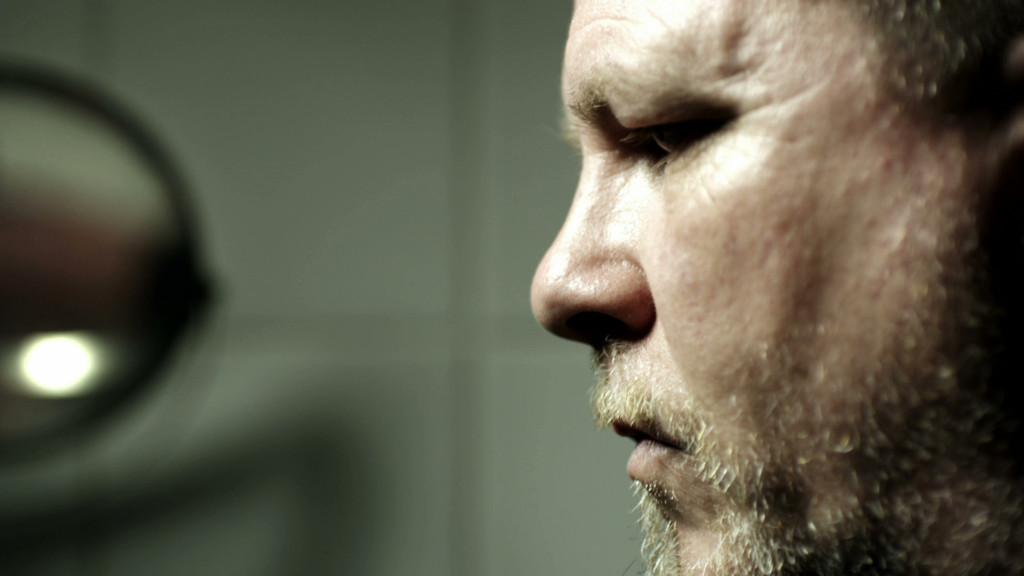 I took a huge gamble with this film – I researched and wrote the script, polished it and only then contacted Harry Stanley's widow Irene Stanley, to ask her permission to make the film about her husband's tragic death. She did not understand the script, the way it plays with truth and undermines its own authority with titles which warn the viewer to beware of what they are watching. But in the end, Irene Stanley was persuaded that I had good intentions and reluctantly gave her permission.
I spent my own money to make it, and found generous contributors, eg. Dominik Rippl, the DP, came with his Red One camera kit, and did a fantastic job. Once we had a rough cut to show, I took it to friends of friends at Molinare and managed to get all the special effects and grading done at weekends and during downtime. I had met the famous sound mixer Nigel Heath a couple of times socially. He runs one of the top sound houses in the world, Hackenbacker (Spooks, Downton, Submarine, Shaun of the Dead, Children of Men). I asked to show him my rough cut, he loved it and provided foley, dialogue editing, sound mixing to 2.1 and 5.1 and even a composer for the score. Once you have a good rough cut and people can see what you're going to do, it's quite easy to get help.
It took a huge amount of effort to get it into festivals, and cost more than the film itself. It's still mystifying why our film, a true story about a Scottish man was rejected by every Scottish film festival we applied for, including one festival which asked us to apply after having seen the film. You just have to roll with it. Success followed, Premiere at LSFF, winner Best Short Film at Milan International Film Festival, Best British Film at Super Shorts, several other nominations and prizes including being longlisted for BAFTA Best Short Film (and there is no shortlist, just the nominations). And now of course, being in the final round of Shooting People's Short of the Month. I have never clicked 'refresh' so much before in my life!
I'm passionate about this subject, and I've tried not to spoil the story here for people who haven't seen it. Please take a look at the film and spread the word, whether for the quality of the film, or because the subject itself moves you.
We've had some great reviews, and the whole process has been amazing. I was nervous, back in the beginning, meeting Irene Stanley with my script about her life. When it came to the premiere, we gave her a special preview. I sat with her, and when the lights came up, she leaned over to me and said, "You've made a powerful film. Very powerful, and very moving". That was the big moment, everything else has been a bonus.
Frank – Joe McGowan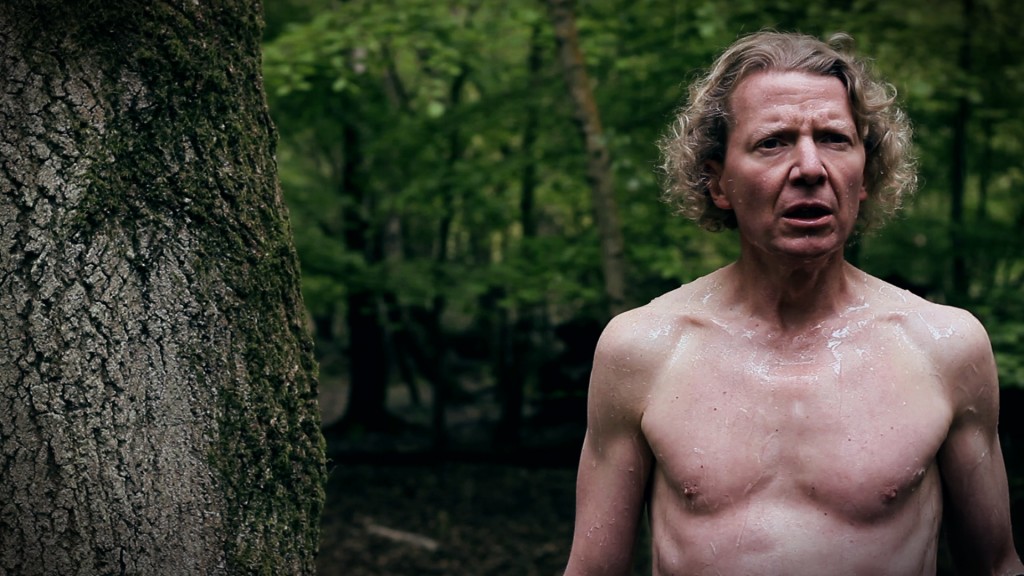 Frank awakes in the midst of a haunting yet familiar situation. Can a single choice help save his sanity and more importantly his freedom?
I made Frank for last years Virgin Media Shorts competition, where the film was originally called Mentis Saltus (Latin for Mind Forest). I spent a total of five months working on the film from pre production all the way through to post. The film wasn't picked up by the contest and had little success on the film festival scene. I learnt a very important lesson when it comes to naming a film. Don't try so hard. When I originally called it Mentis Saltus people would ask me what it meant and it came across as pretentious and off putting when I explained my reasoning behind it. A friend of mine suggested that I was trying to hard with the title and suggested something simpler. It was then that I realized 'Frank' was staring me in the face and the title stuck.
This year I decided to re-edit the film along with giving it the new title and the feedback I have received has been very positive. Frank is a film that I really enjoyed making and I am hugely proud of. I wanted to make a complex and stylistic approach to an everyday occurrence that an audience could connect with and find humourous at the same time, and I believe I have managed to pull that off.
Having got this far in the film of the month contest has been amazing and means a lot to hear praise from other filmmakers. I am currently sending the film out to as many festivals and screenings as possible and it has already been chosen to appear at a few events this year.
A Fish Supper – Orlando von Einsiedel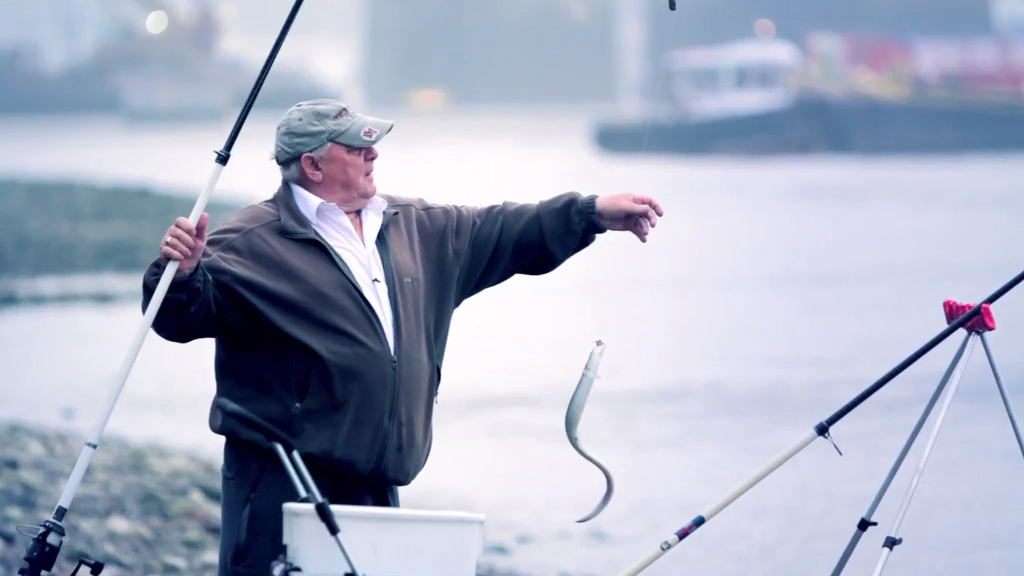 I was working on a commercial shoot on London's Southbank (which if you don't know it is right in the heart of the city) a few years ago and saw a lone fisherman catching eels and putting them into a bin liner. He was chuckling to himself as he fished and was politely answering questions from all of the amazed onlookers. One person asked him what he was going to do with all the eels he was catching and he looked at them as if they were stupid and said "eat them of course".
The idea of catching and eating anything from the the murky looking river at the heart of the city I live in filled me with a mixture of disgust and wonder. Disgust because I knew that the waste from millions of people ended up there but also wonder that anything could survive in the river's slimy waters.
I started to talk to this mysterious figure myself, and soon was in hysterics as he spun a yarn about having fishing in his blood as he was the scion of a fish mongering dynasty but that while his ancestors had filleted fine specimens of the North Sea's best catch he was now hooking eels amongst the condoms and tampons of the Thames. Phil was a natural story teller, full of charm and charisma and the documentary maker in me wanted to follow a day in his life and see what happened…
It took a while to persuade Phil to let me spend some time with him on the Thames but eventually he got bored of my persistence and so on a particularly grey morning I met Phil at his apartment and we ventured to the river for a day of fishing just as the City of London's suited traders were arriving at their offices.
We spent a very enjoyable day together moving around Phil's favourite haunts and his passion for fishing was infectious. To end the day Phil took me back to his house to try some freshly cooked Thames eels. How did they taste…? Delicious.
For me, A Fish Supper is a film about passion and the fear of losing what is dearest to you. Saying that makes it sound like a heavy film but it isn't. A lot of the films I work on don't tend to be about the most lighthearted of subject matter so this was a bit of an experiment for me. I hope we've done Phil's character justice. Have a watch and I hope you like it.
Brighton – Robin Schmidt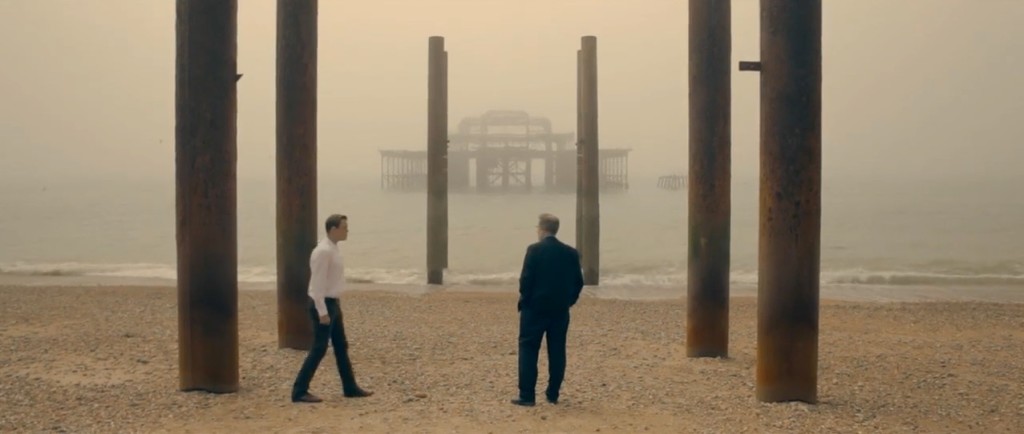 Brighton was born out of a wish to try something a bit experimental with a fractured parallel narrative and two unusual characters. It was entirely improvised and we gave the actors three mood states to perform in representing three different times of day where they kept going over and over the same ground in an argument. It's ended up looking a lot like a trailer for a bigger film but it still leaves you hopefully asking the question of what the father actually is trying to admit to his son.
Imposters from Outer-Space- Felix Mulder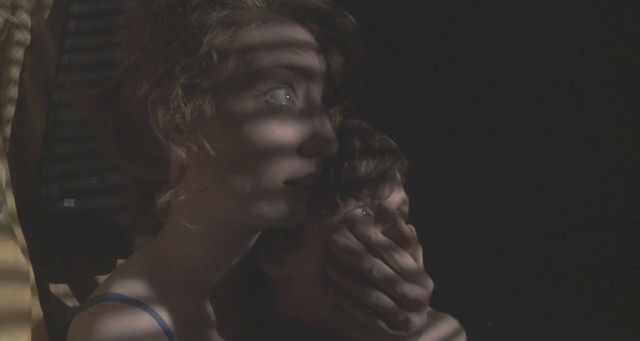 Inspired by the short story "Two Sentence Horror Story" Director Felix Mulder decided to create his own version and make a film out of it. This film was made during his time at the Met Film School in London. Taking on new challenges he decided to build the stage on the same day of the shoot and create the environment that he visualised for his film.
Collaborating with fellow student and D.P Camilla Mathis they decided to make the film feel very dark and work with shadows and grain.
This was an exercise shot nearly 2 years ago and the fact that it got in to the top ten films this month is a big surprise for both of us. Thank You very much.
In Conversation with Gavin Nolan – Mät King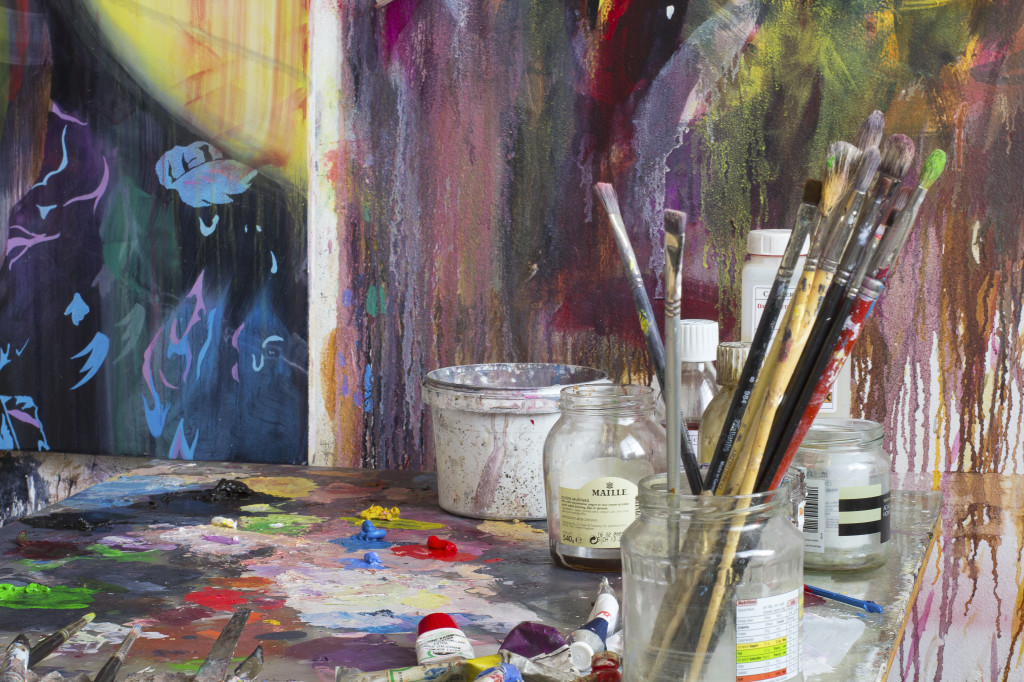 To find an artist as interesting as Gavin Nolan and one willing to participate in a film was just fantastic. We shot the studio scenes of Gavin, in the early part of the year, in his warehouse studio in the Bow area of East London. I'd never met Gavin before the shoot but my producer partner Maxine, who has a background in art, had initial meetings with Gavin to determine a direction to go.
When you come across such a vibrant and energetic artist it can be all so tempting to drift off into a retrospective of their career.
After the initial meeting we chose to focus on Gavin's current work and with that in mind we were incredibly fortunate to have the help of Zavier Ellis, of CHARLIE SMITH london, who not only set up the initial contact but was also willing to participate in the film. As you can see from the film Zavier is a passionate gallerist and has the ability to translate his passion into the wonderfully informative sections in the film.
The fantastic scope of Gavin's contemporary yet traditionally produced work seemed to be ready made to fuse into the digital world. With this in mind we kept the soundtrack as an accompaniment rather than allow it to narrate as can often be the case with films portraying artists or their work.
We also chose to keep a reasonably deep DoF for most of the film as we felt that Gavin Nolan's work should be allowed to speak for itself within the "In Conversation…" theme.
We've had so much positive feedback about "In Conversation with Gavin Nolan" since it's been on Shooting People's Film of the Month competition. And we are absolutely thrilled that it made it through to the second round in company with such great films.If you haven't seen it please take a look. Even if painting may not be of interest you may be pleasantly surprised and refreshed with what Gavin has to say and in the clear, concise way that he does so.
At the moment we are in the early stages of pre-production on another artist film, but mindful of our other two projects, which are both narrative. We shot several narrative films last year including "Jubilee 2012" which starred Shooter Stuart Walker, which will be shown at The People's Film Festival in New York.
We try to vary our output so we will be shooting a narrative film "Very Long Stick Proliferation Treaty" working with Paul Steels from Shooting People whom we worked with on our 35 min narrative film Cyclical that starred the always excellent Anna Izabela Wisniewska, who is also a shooter. This will be followed by "Bicycle Thief" (Working Title) that we will be shooting over the next few months. Look out for the adverts on Shooting People.
We have not only had great experiences working with Shooters but also such great support. We look forward to working with them in the future.
Mät King
Kingstreetimages