As Steph pointed out on the Shooting People discuss site, the recently released BFI statistics suggest that truly independent British filmmaking takes only a 9% market share and more than half of the films shot in the UK are done so on budgets of less than £500,000. At first glance these numbers frame a fairly bleak portrait of life as an independent filmmaker in the UK: no money and no audience…
One thing to remember is that if your budget is less than £500,000, getting your teeth into 9% of the audience is not a bad first step towards profit. But is a film business at this scale sustainable? Well, it's been 9 years since Greg Hall first burst onto the film scene in this country with his feature film "The Plague" and this weekend marks the cinematic debut of "Communion", his 4th. As Greg himself admits the path has not been easy but the very fact that he's still here suggests some hope beneath the BFI statistics.
However Greg is not just a triumph of resilience. Back in 2006, when I screened "The Plague" on behalf of Shooting People, Greg was making waves by self releasing the film online as a paid for download. At the time this sort of approach was almost unheard of… now it's almost the business model. Being in control of his work right through to the real business end is something that Greg has continued. Through his company Broke But Making Films, he is self distributing "Communion" and the film was part funded by using a crowd sourcing site to pre-sell DVD packages. This innovative, audience focused approach to the business goes hand-in-hand with a bold, uncompromising cinematic vision and passion for the radical. "Communion", shot by Nicholas Winter, is full of beautifully angry primary colours and reminded me of Abel Ferrara's "Bad Lieutenant", sharing that visceral mix of religion and remorse. It's also a cracking road movie unafraid of asking questions.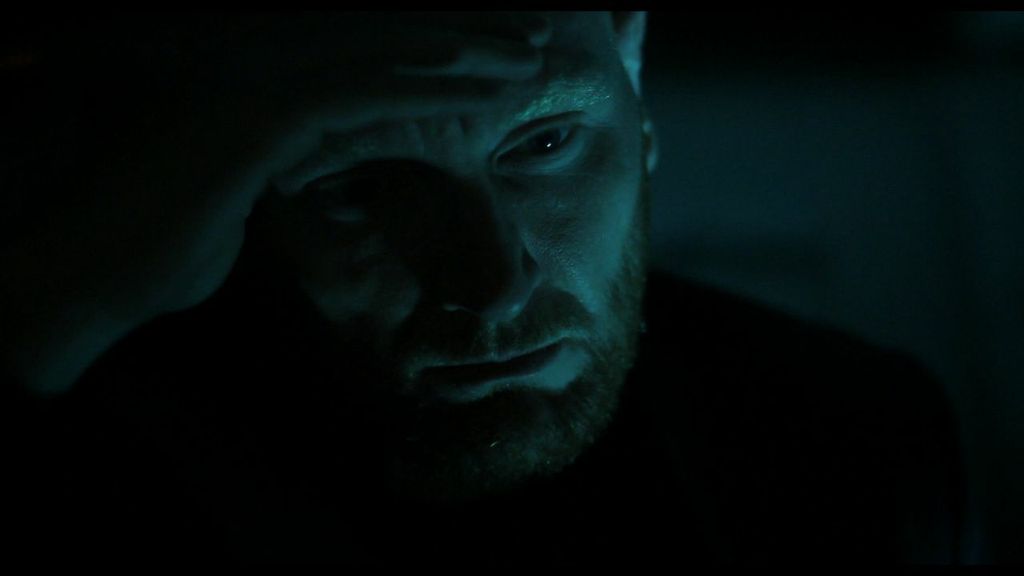 "Communion" opened in London at the Portobello pop up cinema on the 1st of August and runs until the 10th. To celebrate the fact and to encourage you all to go and see it, I caught up with Greg to find how the experience of making "Communion" had differed from "The Plague" and how he felt about the living and working as an independent filmmaker in the UK.
What drew you to this story and these characters?
For me the lead characters, like all of the main protagonists in my films, are anti-authority. You have Father Clemence who is quite literally questioning his faith by challenging God with his rampage of revenge and Maria a back packing, dope smoking punk on the run from Mexico rebelling against patriarchal capitalist society. Both characters embody idea's that I am interested in exploring with my work, they are outsiders driven to the edges of their sanity by the grinding inequality and vice of modern life, combined they are the most beautiful, oddest couple to be on the road together. I was drawn to the fact that I could explore psychologically deep characters within the framework of a genre piece, being very story focused while also challenging an audience to engage outside of the usual passive consumption comfort zone of mainstream cinema.
How does budget affect your creative approach, does it determine which story you tell, or just the way you tell it?
A budget has never got in the way of me making the films I've wanted to make. I think the thing to be clear on when it comes to budgets is that you will never have enough money to make your film. No matter what level of the ladder you exist on, I'm sure even James Cameron doesn't have enough money when making 150 million dollar block busters, so you should never let the budget determine the story. That decision should be made by the story teller, as they are the one who will slave away against all odds to get the film made. Of course how the story is told is reliant on what resources you can afford, therefore working on micro-budgets sharpens your wits and focuses your film language, but ultimately you can pick any genre and make a film on money as long as the story is strong. That's the key, a strong story that speaks to an audience. Don't ever let a little thing like money get in the way of telling a good story.
How did you fund the film?
The majority of the money was raised through a crowd funding campaign, we aimed for 15K but only reached about 10.5K which roughly worked out that we had 9.5K to make the film on. We've relied on a credit card to cover the rest, so the final budget is 15K spent which also covers the distribution.
What did you shoot on?
We shot on the Canon 7D with a very simple set up, I call Nicholas Winter my cinematographer 'One Light Winter' as he seems to create beautiful works of art with twenty pound LED's. The only major thing we had was suction cups and all the ensuing paraphernalia because we were shooting a lot with a car, which are notoriously difficult to film, so we wanted to cover it in as many creative angles as possible.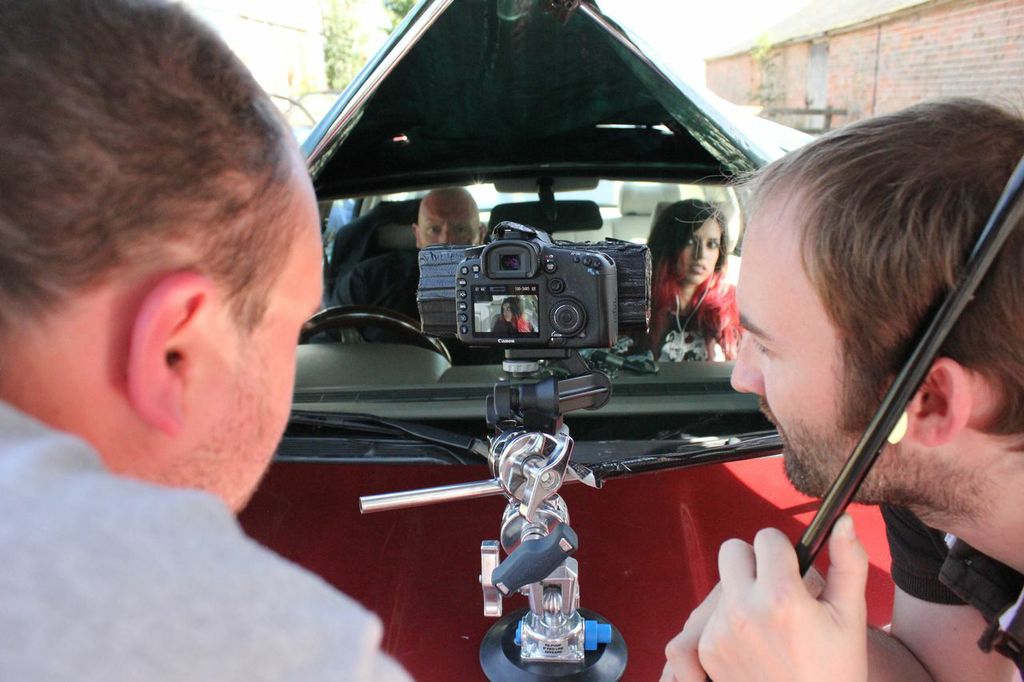 How long was the shoot?
The main body of the shoot, being the road movie with Father Clemence and Maria was completed in 16 days of filming, with the entire crew and main cast members living together in a cottage. Then the second part of the film, a flashback sub-plot following the disappearance of two young girls from a family, I approached as its own stand alone film. This was shot over a 4 day weekend about a month after the main shoot, then there was 2 days of pick up filming to get the final elements, so 22 days in total.

What size crew do you have on average?
On average 10 people, that would include my producer, production designers, assistant producer, clapper etc, but really the main crew is just 3 of us. I consider that the frontline crew where the footage is being captured, and that's basically me, my cinematographer and my sound man Jeet Thakrar. The three of us have a great working relationship and are use to being under difficult circumstances, but we are really able to focus despite whats going on around us and get the shots and recordings we need to make the film. And that's the main thing.
What do you cut on?
I cut on a completely outdated Mac with an old version of Final Cut Pro 6, the computer has been a beast editing three of my feature films and a number of shorts / music videos, but is desperately due an upgrade and overhaul. We ran into problems once the film was graded on a Da Vinci with a PC, a quagmire of codec issues meant it almost melted my computer trying to bring it back into Final Cut, so in the end the simple answer was to do an online using the cinematographer's PC with Avid.

You write, direct & edit… as I know many people see this as at least one job too many… why do you like to work this way? What advantages does it offer? What steps do you take to avoid getting lost in the material at each stage?
I consider myself a storyteller, when it comes to cinema it is the main elements of writing, directing and editing that formulate the story, so combining the three disciplines has always felt like a natural approach for me to take when making films. Getting a film made, especially when working against the elements, relies on a strong clear vision and that to me is the role of the director or in my case storyteller. Sometimes if I'm honest I find it hard to detach the jobs of writing, directing and editing. They seem to mould together. But my process to film making is underpinned by collaboration, whether it's the script, performances or shots etc, I encourage and thrive off collaboration and creative input to help bring a story alive. One of the troubles is being too close to the film, but a good team around you whose opinions you can trust on really helps, plus sometimes it's fun to get lost in the material. I could easily be criticised for jumping into the deep end feet first, but then that's one of the perks of being an independent filmmaker.

This is your 4th feature film, is it getting easier to make them?
It's getting more fun each time. I don't know about easier. Every film has its logistics and difficulties to overcome, it's just about how you cope under the stress and keep your mind focused on the job. I've been making feature films for ten years now, with each production the ensuing failures and successes have meant I've learnt a lot and been able to develop my skill set with each project. Also the cliché of getting older brings life experience, being a father to a two year old daughter has meant my maturity and attitude to filmmaking has grown in confidence.
How would you say your style has developed since The Plague?
I would say my style has developed a lot with each film, when I first made The Plague in 2004 I was twenty-two years old with still a lot to learn but driven by a hunger and passion. It meant that I was willing to take risks, experiment and throw every idea I had at the film. My following two features helped to refine, make mistakes and find my feet, so by the time I got to Communion my knowledge of cinematic expression matured with confidence and conviction. Bizarrely when making Communion I felt a real affinity with my debut film, though they are worlds apart in some respects and stylistically very different, I guess I feel like they both have a bold – almost comic book – style. I would say with learning my style has developed but in the sense of film form the strong vision behind the pieces has remained consistently vivid.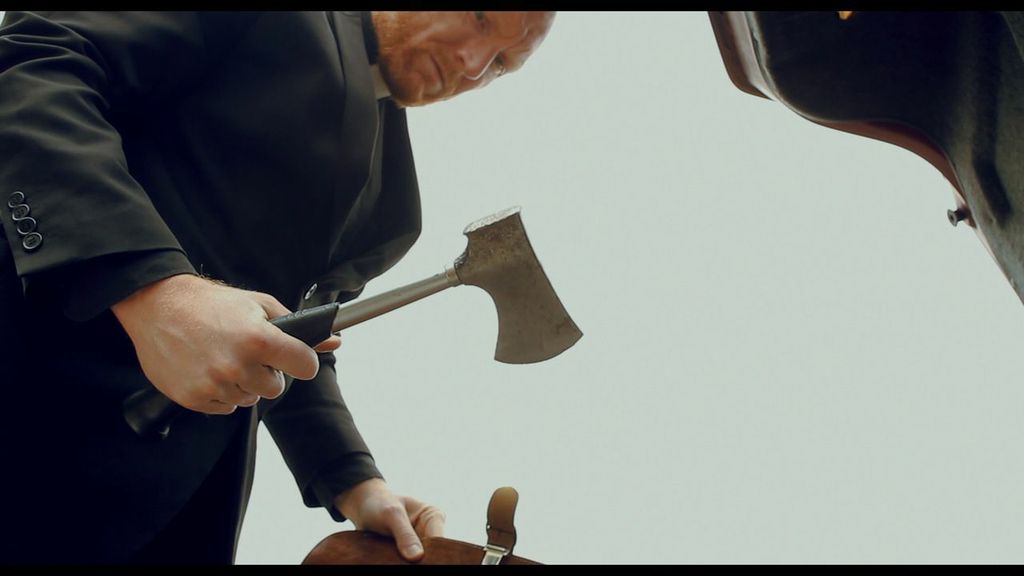 With BBMF you seem to have developed quite a team, how did you all meet and what keeps you working together?
The moniker Broke But Making Films originally came about when The Plague was first getting a lot of it's successes with big film festivals and mainstream press coverage, it was a bit of a joke really because people around me thought I was doing amazingly well financially, but reality was far different. The name developed into a production company, key to that was my sister Becky who has produced all of my films, in fact my mum and dad appear in all my features and our older brother Spencer does our accounts keeping the books kosher. So it's very 'family' orientated. Add to that actor Paul Marlon (aka writer Paul Stevens) who we first cast on my second feature Kapital when he was fresh out of drama school. We have worked together since on every project and his involvement in BBMF has grown each time to now Paul having a key input in the work we create and put out. I've known my cinematographer Nicholas Winter and soundman Jeet Thakrar for over ten years since we all studied together, plus BBMF has become a magnet for many fellow travellers of artists, filmmakers and actors over the last year, it's kind of morphed into a collective and also a distribution platform but it's hard to really pin it down. Which is cool.

You are self distributing… is that just because no one official wanted it? What are the benefits?
The strategy with Communion from the start was very clear – raise the money, shoot the film, get it to an audience – I didn't want my life and my work to be in the hands of others. I didn't want to have to wait on festivals, sales agents or distributors to determine my future. So I decided not to go down that route, I wanted the momentum that was built up during the crowd funding campaign to continue right through, not dropping the ball of interest, building an audience ourselves and demystifying the quagmire that is distribution. It's the bane of every filmmakers life, the dirty word 'distribution' hangs over our heads, so I just broke it down and thought if I can screen it in cinemas, sell some DVD's and then release it online that is basically it's distro sorted. It was about being realistic. Realistic of the state of major distribution companies who have limited budgets and projects they are willing to take on, I've known for a long time that the final hurdle for independent filmmakers to exist autonomously outside of the limited 'industry' infrastructure is distribution. I was also realistic on my own behalf, I wasn't approaching this thinking I have a masterpiece and it's going to blow up and I'm going to be flying around the world and buying a house off the back of it. I wasn't making the film for the approval of others so I could say I've 'made it' as a filmmaker. I knew it was going to be a cheap, entertaining and a well made film with an audience keen to see it, so I wanted to avoid the situation of it ever being sat on the shelf gathering dust, this was about continuing my body of work as a filmmaker and building interest for what's next in the careers of all those involved.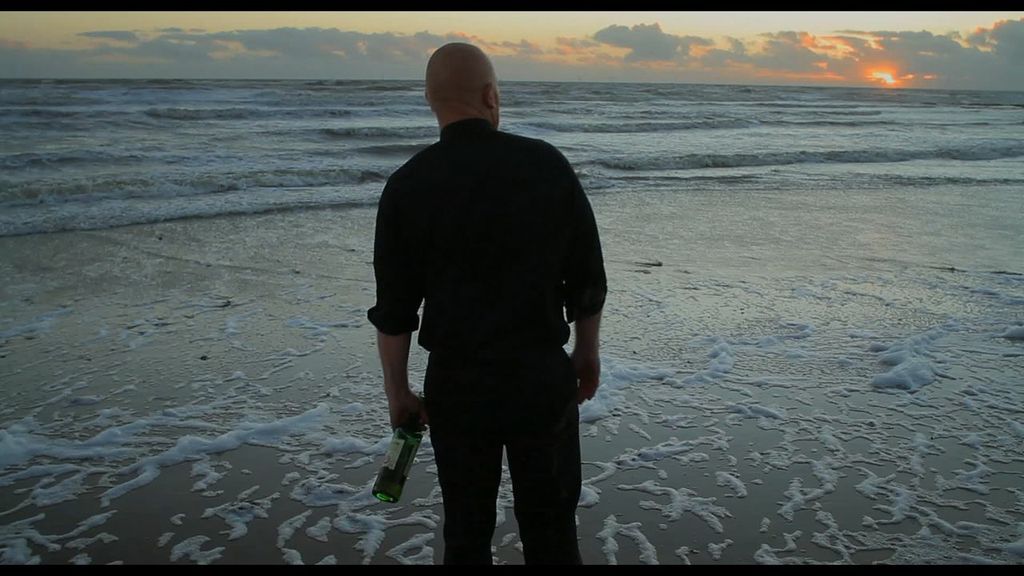 It's become part of the accepted model for a British feature film to be micro-budget and released online… however it's a model you practically created and have been following since 2006, does that mean it is sustainable? Is the online audience large enough to support production?
Let me be very clear from the beginning – has the attitude of just go out there and make a film with no money been creatively sustainable? Then the answer would be 'yes' as I've made four feature films. Has it been financially sustainable? The answer is clearly 'no' because I am called Broke But Making Films. But the truth is I have never approached it with a business mind, I'm terrible with money probably because I never seem to have any, the sole reason I have ever made films is driven by a desire to share stories with an audience. The life of a film is a bit like firing a bullet from a gun, once the trigger has been pulled it rockets off in an unknown trajectory. With my films I've had many adventures in the territory of publicity and distribution, namely online, it's funny to think The Plague had an internet release in 2005 before even the existence of High Definition. These have all been a very steep learning curve especially as I approached it with no thought of the outcome. But the last year since the beginning of Communion my attitude has changed, probably because I have a family to provide for and have no other prospects in any other fields of work, so BBMF has been following a strategy that is building step-by-step a model that can become sustainable. We are still on that journey and will need time to reflect on it's successes and failures, in six months time we will be clearer on the model we are building and it's sustainability.

Is this the first time you've used a crowd funding site as part of your finance plan? If so, is that an approach you'll use again?
Yes I was initially very hesitant about crowd funding, I think there exists a kind of 'X-Factor' mentality when it comes to the internet, it's a popular misconception to think that by just putting something online everyone is going to throw money at it. I approached with caution, doing my research by speaking with filmmakers who had successful and failed campaigns so when it came time to decide on crowd funding I had a team assembled with a timetabled strategy planned out. It is a lot of work running a full time campaign to generate interest in your film and secure it's funding, but I would definitely be interested in doing it again.
Do you see crowd funding as pre-selling the film or as form of charity?
My whole approach to crowd funding was pre-selling the film, our aim was to sell £15 DVD packages and £30/£50 DVD & Premiere Tickets packages, we knew exactly who we were aiming at and therefore capped our packages at £100 maximum. Independent musicians and labels have been surviving off pre-selling albums for years so it's just a matter of time before indie filmmakers do the same.

What are your plans for your next film? Will it again be to this model?
I've learnt not to put all my eggs in one basket. I have a number of strategies on the table for me to work with, it is partly dependent on how the rest of the year pans out, the main thing is I want to remain open to as many opportunities as possible. I have four potential projects, all with different budgets and different strategies to secure finance and distribution, the main goal is always building an audience and working towards a sustainable independent model. At this very moment I don't know exactly what my next film will be as it's dependent on a number of factors, but I have a good few ideas on what it could be so it's about seeing where the journey of Communion takes us.
What keeps you working in the UK?
I'm born and bred here so I guess it's in my veins, and I say that as someone who is not patriotic at all, but I have a deep interest in the radical history of this island. Reading is like time travel where the past and the present exist at the same moment in your mind. There are so many fantastic stories to share, such a rich history and culture of artists and rebellion, plus a diverse and often under depicted geography that keep me working in the UK. It's the many unheard voices that need hearing that keep me making films in this country.

What excites you about the future of British film?
The filmmakers themselves pushing the boundaries of cinema in Britain excite me. I have a bench mark of three filmmakers who I currently judge the standard of others against. In terms of short films Writer / Director Karan Kandhari, who has just completed Sidney the third short in his United Howl Trilogy, sets the bar for me. His distinct vision, unique style and technical excellence displayed in his short films has me eager to see what he creates next, hopefully a full length piece. When it comes to micro-budget features then Rob Savage's Strings needs to be the level, if you are planning to make a no-budget feature then you have to see Rob's film, if you know your film can't compete with Strings then you shouldn't bother. It's a visually exciting, honest, raw piece of storytelling and it's everything your first no budget feature should be. Thirdly when it comes to feature length documentaries then Director Dean Puckett is setting the pace for everyone else, self financing and self distributing his work that is at the cutting edge of the political climate, his third full length film Grasp The Nettle sets him out as an important filmmaker to watch out for. The future of British film excites me by the number of great filmmakers we have making exciting cinema. Let's all keep it up.