These reviews contain spoilers. 
All is Lost
Although the concept of spending two hours alone on a boat with Robert Redford sounds like some suburban housewife's wet-dream, J.C. Chandor's All Is Lost is a revitalising take on the survivalist drama genre, offering interesting parallels with Alfonso Cuaron's sci-fi hit Gravity (see review here). Redford stars as a nameless sailor, who awakens one morning to discover water pouring into the hull of his yacht following a freak collision with an errant shipping container. Told without dialogue or any other characters, All is Lost operates as a testament to one man's will to survive under incredible circumstances.
The casting of Redford in such a pared down and refined capacity is undoubtedly interesting. Known as Hollywood's golden boy, his appearance here, after limiting his acting roles to his own directorial features, suggests a desire to recapture some of the charisma and bravado of his youth, one last final affirmation of his acting prowess. It's a tough role to carry, the entire drama played out in nuance and silence and Redford delivers it beautifully. Despite the films's occasional dips into mawkishness, he retains a pragmatic determinism, where his response to each and every problem that unfolds feels both natural and logical with his incremental decline into despair and resignation being heartbreakingly measured. In such, he operates as our celluloid surrogate, mirroring our own fraught emotional responses.
The film, for the most part, matches him beat for beat, especially in regards to its taut editing and sound design, where like Titanic the groaning of the yacht becomes a frighteningly ominous presence. The only loss in tension comes, as is often the case, in the films last half an hour, where Chandor piles on the narrational and emotional cliches; sharks, and the ever-so-close ship that fails to spot him. I still have problems with Redford's ambiguous demise, but I accept it's a fairly brave and divisive move. As mentioned, if Redford is our surrogate then his fate after the film has ended is ultimately decided by our own temperament as either an optimist or a pessimist; a sort of nautical Schroedinger's Cat.
PS. If any of you are wondering, for me the cat is most definitely dead.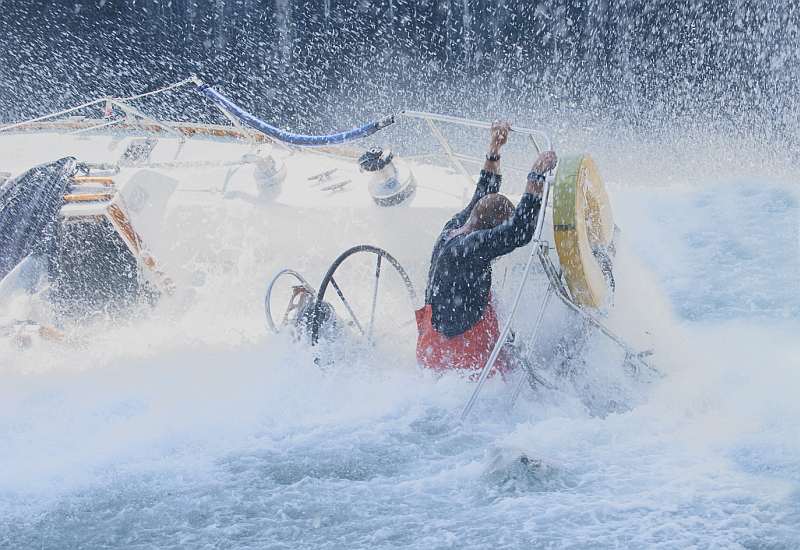 Captain Phillips
From one sea-based calamity to another, Captain Phillips is based on the true story of the Somalian hijacking of the merchant vessel the MV Maersk Alabama. The film is another exercise in sustained political terror from the formidably talented Paul Greengrass and is comparable to his previous films Bloody Sunday and United 93, both of which respectfully and provocatively distilled tension-filled drama from life shattering events.
Tom Hanks stars as the titular captain; stoic and pragmatic, the character conforms to the rest of Greengrass's cinematic 'heroes.' From Bourne to Phillips, he's always concerned himself with leading characters that excel under pressure and Hanks handles the role with a knowing subversive nod to the all-American wholesome roles of his youth. Here, on the surface, the character is very much that, yet he displays a reserved intelligence that negates the inherent goofiness of his oeuvre. He is also brilliantly matched by the nervy, erratic performances of his Somalian captors, including first time actor Barkhad Abdi, who plays the group's fearlessly intelligent leader Muse.
Despite the film's position as both an action film and an American film, it's politics are quietly complex, never allowing Muse and his crew to be viewed as villainous but as victims of consequence. The film delves into the socio-economic situation in Somalia; a world rife with poverty and gangsters willing to exploit the poor and needy, whilst also taking a wider view at the position of first-world shipping and the consequences that has on third-world nations. In fact it's a testament to Greengrass's political edge that the film's final forty-five minutes are both unbelievably tense and despairingly sad. Where once the Navy are involved in negotiating Phillip's rescue, the inevitable failure of the Somalian's plan as they are unable to both counteract and comprehend the forces that are plotting their downfall becomes all too real, and are brought to a close by a moment of abrupt shocking violence. What follows is possibly Tom Hanks best shot at a third Oscar; blood-splattered and delirious he crumbles before our eyes and succumbs to the horror and shock of his ordeal. In focusing on this one moment, Greengrass distances himself considerably from the fantasy of the Bourne films where consequences were rarely dealt with, here they're upfront and centre stage. As with United 93, the final moments offer a cinematic double-bluff, where the grammar or the preceding two hours have somewhat led us down a populist alley-way, before revealing its true, provocative intentions.