The final ten films are battling it out over on the leader board for their chance to be crowned May's Film of the Month. The top three finalists will be reviewed by our judge, Will Massa. Will is the Senior Programme Manager at British Council Film and has responsibility for short film promotion, the British Council Travel Grant Fund – run in partnership with the BFI – and the Shorts Support Scheme. He also advises British Council offices across the Americas and Europe on their year-round film activity. Will has also been Head of Development on national short filmmaking initiative Collabor8te for its last two editions. Run through Rankin Film Productions (RFP), Collabor8te is designed to unearth and develop new filmmaking talent taking them through script development and into production on a short film project.
We spoke to James Atkins, the filmmaker behind How I Ate Your Mother about his entry to Film of the Month. Remember to vote for your favourite here.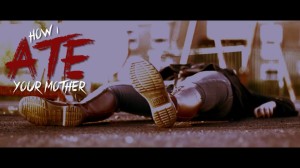 'How I Ate Your Mother is a short film made for the Exposure Filmmakers 48 Hour Challenge in November 2013, and then re-edited in 2014.  The crew was only assembled the day before the competition and consisted of James Atkins (Writer/Director), Ben Grace (Camera Operator/Editor), and Kerri Winterburn (Make-Up Artist).  We had never met before, and had no actors, so on the day the competition was to commence James blitzed the Southampton acting community, and managed to get three amazing actors in Jessica Sargent, Chris Keenan and Marcus Kinsella.
The team, known as The Boom Shadows, finally met each other as the competition began, and once the criteria were given to us we brainstormed our idea at a local pub, agreeing to meet the following morning to shoot the film. The shoot went amazingly, with Chris willingly sacrificing a suit and his apartment in order for us to make the film.  With only 24 hours left Ben then edited the film and submitted it to the competition.
One week later Ben then tweaked the edit a little bit, however the sound quality was not good, so a great sound designer called Paul Williams changed the music score and did an amazing job improving the sound.'