I have been away. This blog is not a place I wish to fill with explanations or excuses but to be clear, my silence was caused by events both awful and personal; such as to say I have been away as much from myself as from anyone else.
Whilst away I seem to have kept a notebook. It's definitely my hand writing and there are plenty of notes on the still ongoing edit of my film "Nina Forever". I don't recognise all of the thoughts. Scattered through the book though are some with relevance to the work that, as a reader of my blog, you probably share with me. For instance, this page is headed "READINESS + THE 4 AUDIENCES".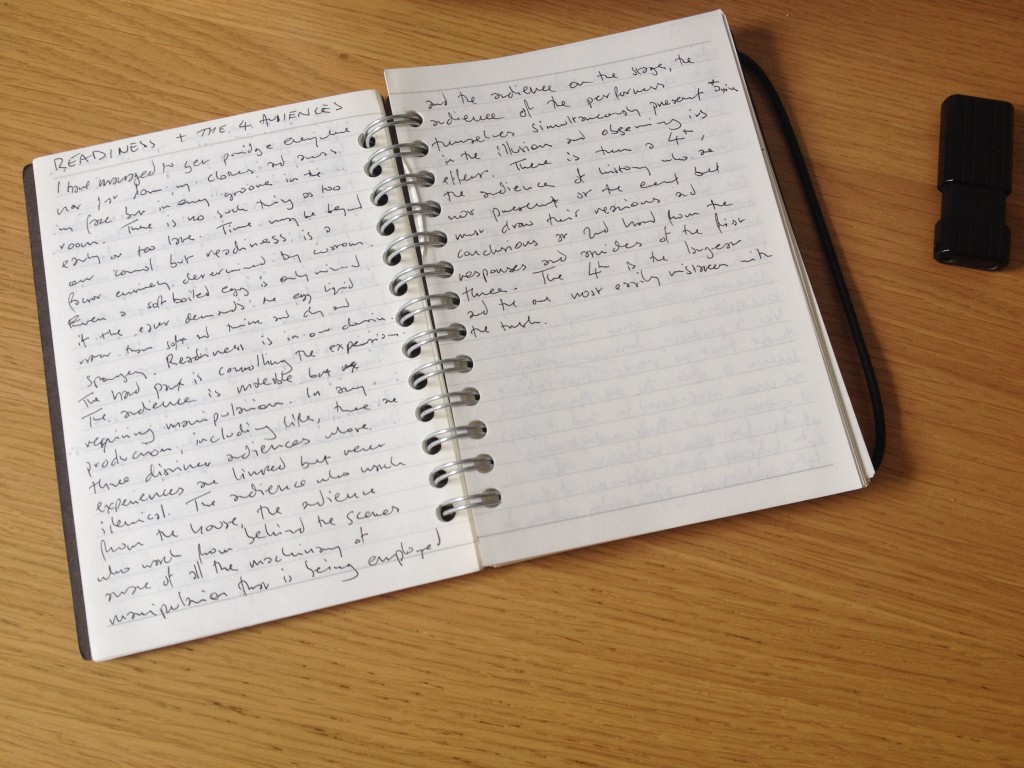 There is no such thing as too early or too late. Time may be beyond our control but readiness is a factor entirely determined by custom. Even a soft boiled egg is only ruined if the eater demands the egg liquid rather than soft and thick and dry and spongey.

Readiness is in our domain. The hard part is controlling the expectation. The audience is malleable but requiring manipulation. In any production, including life, there are three distinct audiences whose experiences are linked but never identical.

The audience who watch from the house, the audience who watch from behind the scenes aware of all the machinery of manipulation that is being employed and the audience on the stage, the audience of the performers themselves simultaneously present and in the illusion and observing its effect.

There is then a 4th, the audience of history who are not present at the event but must draw their reactions and conclusions at 2nd hand from the responses and attitudes of the first three. The 4th is the largest and the one most easily mistaken for the truth.

Who knows what I meant when I wrote it, but reading this back what struck me as interesting was how often we (by which I mean creative professionals engaged in making work for an audience) ignore the impact of the audiences beyond the "first" one.
Our perception of what our audience wants goes to shape our work. But this shaping comes not just from our paying customers (the first audience) but from the production and development staff (the second audience), the cast and crew engaged in the making of the thing with us (the third) and that notional sense of history (the fourth).
Which audience is most deserving of our attention? How often do we aim past the stalls at that invisible audience outside the cinema? How often do our ambitions not even reach the first audience, stopping in the laps of our producers? Alternately, as the 2nd, 3rd and 4th probably care more perhaps shouldn't they be our focus ahead of the casual punter?
I ask without knowing but interested in your thoughts.