Imogen Heap is an artist extraordinaire. A singer-songwriter and composer who has trailblazed the interplay of music visuals and technology. As well as receiving 3 Grammy's, she has also soundtracked for feature films including the Reese Witherspoon film Just Like Heaven. Her songs are in many films, for eg The Last Kiss with Zach Braff (who used her former band Frou Frou's 'Let Go' in his feature 'Garden State'. In March for the Birds' Eye Festival at Southbank, Imogen composed, in collaboration with Andrew Skeet, an a cappella choral score to the first ever surrealist film 'The Seashell and the Clergyman' (Germaine Dulac, 1927). She is the curator of Reverb 2014 (Thurs Aug 21 – Sunday 24th August) and joins SP as Film of the Month judge for August.
Here's a few words from Imogen;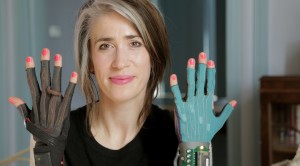 "Hello all.
I'm very very excited to join Shooting People's Film of the Month as a judge. Thankyou! I'm really looking forward to sitting down and chilling after Reverb, watching some of your films.
Good luck to all those who submit!
And I hope you'll join me at Reverb Festival over the bank holiday weekend in August – it's a celebration of music, technology, and living composers at Camden Roundhouse – all shooters are invited!
The SP team asked me to give you a sense of what's on – so here it is. There will be four amazing shows in the Main Space, alongside free workshops, talks and interactive sound installations. From full orchestras improvising, to new pieces from Tim Exile, Leafcutter John and Plaid to one woman and her gloves (me).
And for those of you particularly interested in visuals, definitely not to be missed from a visual perspective is Quayola and Nick Ryan's collaboration Synaes on the Saturday night & Simon Steen Anderson's brilliant Black Box Music . It's all going to be stunning.
You will also find yourself in the arms of Arboreal Lightening, a huge interactive tree, rooted at centre stage and reaching into the rafters. You can sit under it in the small hours of the morning or watch as it engages with the music during the live shows. You can see the speed of sound in light travel in the underbelly of the building with Helmholtz or strap yourself to the internal bridges and become a human harp, thanks to Di Maidstone! Try out my mi.mu gloves and make music out of thin air, sit in for some inspiring talks or get involved in some workshops.
It's really wonderful for me to get involved with Shooting People. I haven't scored much for film and TV, but those bits which I have, I've enjoyed so much. It's almost like the film reaches out and grabs the bits of music it wants to have accompanying it. I would love to do more of it! Baby on it's way soon (my first). But I wonder if this might be something I begin to engage more with. When I was growing up, that's what I fancied doing really. Scoring film (and travelling around the world in my own private jumbo jet with my own orchestra, writing and premiering as I go!). Here's a recent song I wrote for the film, Cycle Song and Climb to Sakteng.
I've also begun to start to control visuals with my gloves now. Using them in the video to this song from my new album Sparks
I wonder if the gloves could be used for film/video editing one day?!
At any rate, I can't wait to see your films.
And come hang out on August Bank Holiday weekend at Reverb!  You might just fancy a drink at the beach (the whole outside bar complete with sand and tiki bar)! It's set to be an amazing weekend. I've searched high and low to curate a festival you'd have to kill me to stay away from.
Hope to see you there!
Imogen Heap