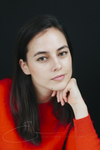 Noemie Nk
Script reading - discounts
Hi there!

I offer affordable script reading services, and offer discounts if booked in April/May!
I mainly do short films / narrative features, but feel free to also send tv/theatre.
Jump to my website for testimonials:
noemienakai.com/scriptreading

and big thanks to everyone who has been sending me their scripts so far!