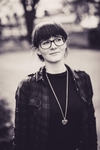 Jayne Slater
South Yorkshire based Producer looking for LB projects
Hi, I have some free time at the moment and so I want to get more films under my belt. my site is jsmslaterfilms.com

I'm looking for good scripts that can be made by being self funded by the director themselves and that won't be too complicated to shoot. I want scripts that have good potential for festivals and directors that have something to show from previous work.

Please note I won't give financial support for these projects. I expect any expenses I incure to be refunded, but aside from that I am happy to work voluntary.

If we are based away from each other, then I ask that you also produce OR you have another producer on board based closer.

If interested, please email jaynesmslater@gmail.com with the script and your budget. If the script isn't for me I will be honest so please don't be offended I am just particular in what I take on.
Colm McAuliffe

Hi Jayne,

don't forget to check out Production > Script Pitch on the Shooting People website where you will find a wonderful archive of members' scripts.

All good wishes,
Colm