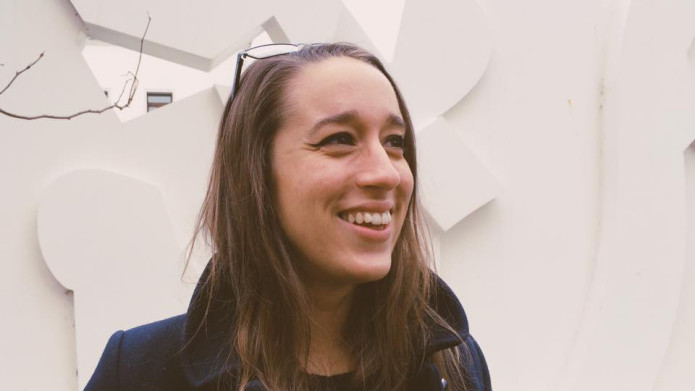 At our SHORT CUTS Launch Party last month, we were lucky enough to be joined by Producer and SP member Manon Ardisson who has seen huge success with the break-out hit of last year, God's Own Country.
The feature, directed by Francis Lee, premiered at Sundance 2017, winning the Special Jury Award for Directing in the World Dramatic competition. The film went on to win awards at international festivals, notably Best British Film in Edinburgh, Best International First Feature in Galway, and the Audience Award for Best Feature at Frameline. It won 4 British Independent Film Awards, including Best Film, and was nominated for a 2018 BAFTA.
Manon also co-produced La Soledad (2016) by Jorge Thielen Armand, the first feature about the current Venezuelan crisis. The film premiered at the Venice Film Festival and went on to screen at festival around the world, notably winning the Audience Award in Miami.
Manon has been selected for a number of talent schemes, such as Creative England's iFeatures, Film London's Microwave, and Venice's Biennale College Cinema, among others. Manon comes from a production background, and also worked as Creative Assistant at Paul Webster's Shoebox Films.
We know not everyone was able to attend the launch party, so we wanted to give the whole SP community the chance to ask Manon some questions.
Below are our crowdsourced questions from Shooters.
Would you mind sharing details of how funding for God's Own Country was made up? What percentage was from iFeatures, what percentage did you have to find from other investors?
God's Own Country was developed through iFeatures, but it was actually funded outside of the programme by the BFI and Creative England. The majority of the funding came from these two institutions, and we also had 10% of the budget coming from a post deal with Met Post, and just under 20% from the UK tax credit.
What should a producer on a feature film be taking fee-wise? Often producers are so far down the pecking order when it comes to payment, despite our role in finding the money in the first place! Do you have a hierarchy of needs in terms of who gets paid first?
I believe the rule of thumb is that producers should get 10% of the budget between their fees and production overhead. However, that amount doesn't increase if there are more producers, so in that case you will have to split your fee. You should aim to pay yourself a producer's fee during production, and a production overhead fee after delivery, in case you need to use that amount to complete the film (which is not fair, but common practice). Producers are often asked to defer their fees, but that hasn't happened to me, and you should try to avoid it.
What would you say are some essentials in an independent Producer's toolkit? Things such as contract templates, tax calculators, software etc. Any kind of resources that you would recommend for someone starting out?
When you get started, there is a lot you can achieve with Excel in terms of budgets and finance plans, before having to invest in industry standard software. But what you'll eventually need is Movie Magic Scheduling and Budgeting. For contracts, call sheets and so forth, you can generally find templates online (just searching through google). I adapted mine from past jobs, but I believe the No Film School website is a good resource.
As a successful feature film producer what do you look for in a project to want to attach your name to it?
The most important question is whether I like it! I want to work on films that I believe will have a positive impact on the audience, so I'm quite theme / message driven. I also need to fall in love with the writing: the world, the characters, the dialogue etc. I also need to get a sense that there is a route to production (i.e. that financiers will be interested in this) as well as to audiences (i.e. that other people would want to watch it).
Do you wait for projects to be offered to you or do you search for projects?
I do both. If I have an idea that I think would be interesting to develop then I look for the right writer to commission a treatment or script. But I also meet with writers or writer-directors who have their own scripts, and if I love the project then I take it on and we develop it further together. I would not be interested in taking on a project that is 'ready for financing' and in which I would not have any creative input.
What is the key element; the single most important element to successfully produce a feature, in your opinion?
As a producer you're asked to deliver a film on budget, on schedule and on vision. I think the key element is delivering on vision i.e. understanding what your director is trying to achieve and making sure that every step of the development and production processes support that, from script notes, to financing applications, crewing up, casting and so on.
We've shot a feature that's currently in post production and we would like to enter it into festivals and sell it. My question is, what is the right order to progress? Should we try and get it into festivals first and see if someone might want to buy it, or should we try and get someone to take it off our hands and let them distribute? 
In reality you need to do both at the same time. Having a sales agent onboard will be the best for the film's visibility, so put together a list of sales agents who have sold similar films in the past and offer to send them a screener. But of course if you get selected for a big festival for your world premiere, then sales agents are a lot more likely to be interested in your film. So draft a strategy for the festival launch of the film. It's important to start with the most established and prestigious festivals and work you way down to the smaller ones. Once you have a festival launch, you can chase the sales agents you had contacted before. I highly recommend applying to Film London's Build Your Audience programme, which supports participants in developing distribution strategies for their films. Good luck!
I'm curious about the casting process for God's Own Country. Did Francis Lee's background in acting alter how he managed the castings/working with the actors? How did you find the lead actors Johnny Saxby and Gheorghe Ionesco?
Yes I believe that Francis' background as an actor informed his process with the actors and participated in making the performances the strongest they could be. To cast the part of Johnny Saxby, we worked with casting directors Shaheen Baig and Layla Merrick Wolf who know who the most talented emerging actors are. We auditioned the part and were blown away by Josh. Similarly, we worked with casting director Domnica Circiumaru in Romania to cast Gheorghe. She sent us self tapes first, and we auditioned a dozen very talented Romanian actors in Bucharest. Three of them then came to London to do chemistry tests with Josh, and there was an immediate connection between Josh and Alec. They're still great friends!
I struggle with sticking with a project sometimes, particularly after some knockbacks. Any advice on picking yourself up again after a rejection?
I think in this industry it's important not to take rejection personally. It's hard to do because you feel you are your work, but that's not how people reading / watching assess it. There are a million reasons why people will pass on your project, and all you can do is take the feedback that speaks to you and use it to improve your work. It's a tough business! But if it helps, the more rejections you get, the better at dealing with it you'll become.
What would you say is the best way of finding a good producer? I've now written and directed 3 shorts and am currently finishing a feature script but I've yet to find a producer I'd want to collaborate with and move on to the next stage. Any advice? 
Online communities like Shooting People are a great way to find people to collaborate with! You can also go to networking events, notably during festivals, and apply to new talent programme that Creative England, the BFI or Film London among others are launching. I think you need to meet as many people as you can and find the person with whom you click – who shares your taste and understands your vision. Often it's easier to find that person through working together, so maybe think about the people you did your shorts with?