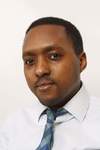 Matthew Prince
When they say "It's all about the script, the script, the script", why are so many bad independent movie made?
In Hollywood, this phrase is said but I believe what they really mean is "it's all about the money, the money, the money".

I mean I see some terrible British indie genre movies on the shelves of my local HMV each month, basically variations of London gangsters, soldiers, zombie and hooligan movies starring z-list actors and 80s pop stars. They show them on London Live. It seems these films are getting made because the money was available at the time, definitely not because the scripts were great.